Start of test with solar energy generating noise barriers alongside highway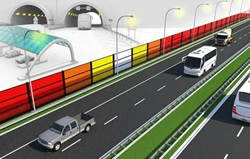 Alongside the A2 highway near Den Bosch, The Netherlands, two test noise barriers are installed that generate solar energy. The aim of this practical test, that was officially launched 18 June is to assess the economic and technical feasibility of this form of energy generating noise barriers. Playing a key role in the test are the LSC panels, developed by researcher Michael Debije at TU/e.
The translucent, colored panels are a new type of energy source, developed jointly by TU/e. These 'luminescent solar concentrators' (LSCs) receive sun light and guide it to the side of the panels. There, it lands in concentrated form on traditional solar cells. "Thanks to their many colors the LSC are visually very attractive, which makes them ideal for use in many different situations in the built environment", explains Debije of the Department of Chemical Engineering and Chemistry, who has carried out years of research into these panels. "Further benefits are that the principle used is low cost, they can be produced in any desired, regular color, is robust, and the LSCs will even work when the sky is cloudy. That means it offers tremendous potential." Debije published his latest research findings on this subject last March in Nature.
On 18 June a one-year practical test started in 's-Hertogenbosch, led by the building company Heijmans. The researchers intend to assess the feasibility of generating electricity using solar cells integrated in noise barriers or SONOBs (Solar Noise Barriers). Cont'd...
Comments (0)
This post does not have any comments. Be the first to leave a comment below.
---
Post A Comment
You must be logged in before you can post a comment. Login now.
Featured Product
The FlexRack Series G3L is the latest fixed tilt racking system from Solar FlexRack. This system offers the speed and ease of installation unlike any on the market today. The system ships in a pre-assembled folded position and is simply unfolded and set into place on the jobsite. The speed of installation for the FlexRack Series G3L has been verified by a third party industrial time study institute. The FlexRack Series G3L offers unique module mounting options which allow the installer to use clips, direct bolt, or a combination of both for a flexible module mounting solution. The FlexRack Series G3L also offers integrated bonding and wire management options. Stop by our booth to see a demo of the FlexRack Series G3L and learn about our full product line of racking innovations.