Trina Solar to Invest $500 Million in India-Based Solar Plant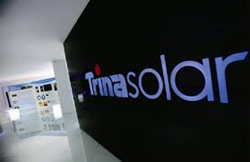 Per a media report, Trina Solar Limited is going to invest $500 million for building a 2-gigawatt solar module plant in India in partnership with Welspun Energy Ltd. The plant's output will be exported to the U.S. and European markets, which have imposed punitive trade duties on solar shipments from China.
The facility will be built in either Gujarat or Andhra Pradesh. Construction of the plant will be completed in two phases over a period of about 18 months.
Comments (0)
This post does not have any comments. Be the first to leave a comment below.
---
Post A Comment
You must be logged in before you can post a comment. Login now.
Featured Product
The Iron Edison Lithium Iron solar battery is fully compatible with popular battery-based inverters and is housed inside a rugged steel enclosure with integrated Battery Management System. Standard capacities range from 2 kWh to 42 kWh, with custom high-capacity and high-voltage models available for commercial applications like peak load shaving and UPS. The battery is designed and assembled at the company's headquarters just outside of Denver, Colorado. The Iron Edison Lithium Iron battery is an ideal replacement for lead-acid battery, with longer cycle life, smaller footprint, and maintenance-free operation. Residential applications include solar battery backup, grid-zero and off-grid energy storage. Commercial applications include high voltage battery backup, off-grid telecommunications power and peak load shaving. If you have any questions, please call us at 720-432-6433. We are happy to help!