Hillary Clinton is calling for a 700% increase in solar power. Is that realistic?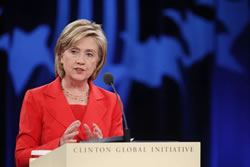 Brad Plumer for VOX: In the coming months, Hillary Clinton's campaign is planning to release a series of proposals for dealing with global warming. Her first installment is out Sunday evening, and it calls for a large increase in renewable power.
Specifically, she's proposing to boost the amount of wind, solar, and other renewables so that they provide 33 percent of America's electricity by 2027 — enough to power every home in the country.
Part of her plan would involve accelerating the recent rapid growth of solar installations nationwide. In her proposal, Clinton calls for US solar power to grow 700 percent from current levels.
That sounds like an impossibly large number, but it's not implausible on its face. US solar capacity grew 418 percent between 2010 and 2014 (because it was starting from a small base). So 700 percent growth by 2027 is at least within the realm of possibility. But it would require additional policy changes — and clean energy prices would have to keep dropping. Cont'd...
Comments (0)
This post does not have any comments. Be the first to leave a comment below.
---
Post A Comment
You must be logged in before you can post a comment. Login now.
Featured Product
Please join Parker's Energy Platform Solutions team at the upcoming Solar Power International show, September 10-13 at Mandalay Bay Convention Center in Las Vegas, NV. Our offering features a compact outdoor Power Conversion/Energy Storage System, complemented by an outdoor central solar inverter, both employing two-phase evaporative liquid cooling technology and modular compact designs. We will also feature axis tracker solutions with our hybrid actuator system that uses an intelligent position feedback sensor, as well as our independent wireless condition monitoring sensors for hydraulic pressure. To learn more about what we will display and launch at SPI, please click on the product sections below.