Hydrogen Gas / Smoke Detector with Intrusion Alarm for Battery Room
From Eagle Eye Power Solutions:
The Eagle Eye HGD-3000 Hydrogen Gas and Smoke Detector with (optional) Silent Intrusion Alarm is designed for unattended battery installations or remote shelters containing gassing lead acid batteries and charging systems...
Lead-acid batteries on charge emit hydrogen gas after reaching the 80% recharge point. When mixed with enough air, hydrogen becomes a highly flammable gas that can ignite easily with just a spark, destroying equipment and harming personnel. The lower explosive level (LEL) for hydrogen is 4.1% by volume.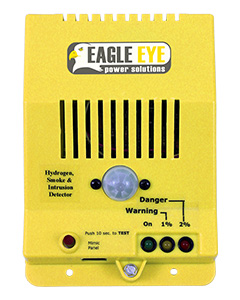 Hydrogen Gas Detection
Attach the HGD-3000 to the wall, ceiling, or optional junction box using the mounting holes at the top and bottom of the detector box. The HGD-3000 will turn on an exhaust fan when hydrogen gas levels reach 1% and will alarm at 2%. This alarm consists of a local 80db horn, a flashing red LED, and a dry contact switch closure for remote alarming.
Smoke Detection
The photoelectric smoke sensor detects minute combustion products from smoldering wire insulation, battery cases, and other material. When smoke is detected, a distinctive alarm is emitted from the 80db horn and a separate dry contact switch is activated. At this time, the exhaust fan is inhibited in order to deny the fire increased oxygen from outside air.
Temperature, Loss of Power, & Intrusion
During normal operation and in the absence of an alarm condition, an internal thermostat will turn on the exhaust fan at a preset temperature to reduce heat buildup in the room. Loss of power to the unit will also generate a dry contact alarm. Additionally, an optional infrared intrusion alarm will trigger a silent dry contact switch.
Comments (0)
This post does not have any comments. Be the first to leave a comment below.
---
Post A Comment
You must be logged in before you can post a comment. Login now.
Featured Product
Solar FlexRack TDP™ Turnkey Trackers are the next generation, single-axis solar tracker solution, complete with comprehensive services and support. What sets this tracking solution apart is its updated tracking technology bundled with a full suite of best-in-class project services and support for commercial and utility-scale solar customers. The TDP Turnkey Tracker offers the lowest total cost solution by providing the only tracker in the industry that includes full design, installation, commissioning, and support services bundled in one contract. Solar FlexRack's TDP Solar Tracker solution is supported by an in-house team of experts that includes mechanical, structural, civil, electrical and geotechnical engineers and geologists. To learn more about Solar FlexRack's TDP Turnkey Tracker, one of the most cost-effective and comprehensive tracker solutions available, please visit: http://solarflexrack.com/products/tracker.