New Material to Increase Solar Cell Efficiency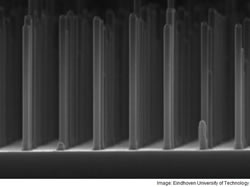 A team of researchers has come up with a solar cell that produces fuel rather than electricity. A material called gallium phosphide enables the solar cell to produce clean fuel hydrogen gas from liquid water.
To connect an existing silicon solar cell to a battery that splits the water may well be an efficient solution; but it is very expensive.
So, researchers were streamlining their search to a semi-conductor material that is able to both convert sunlight into an electrical charge and split water.
The team found gallium phosphide (GaP), a compound of gallium and phosphide, useful in this respect.
GaP has good electrical properties but the drawback is that it cannot easily absorb light when it is a large flat surface as used in GaP solar cells, said the study thatappeared in Nature Communications.
The researchers overcame this by making a grid of very small GaP nanowires, measuring five hundred nanometres (a millionth of a millimetre) long and ninety nanometres thick.
"That makes these kinds of cells potentially a great deal cheaper," said lead author Erik Bakkers from Eindhoven University of Technology, the Netherlands. Cont'd...
Comments (0)
This post does not have any comments. Be the first to leave a comment below.
---
Post A Comment
You must be logged in before you can post a comment. Login now.
Featured Product
The FlexRack Series G3L is the latest fixed tilt racking system from Solar FlexRack. This system offers the speed and ease of installation unlike any on the market today. The system ships in a pre-assembled folded position and is simply unfolded and set into place on the jobsite. The speed of installation for the FlexRack Series G3L has been verified by a third party industrial time study institute. The FlexRack Series G3L offers unique module mounting options which allow the installer to use clips, direct bolt, or a combination of both for a flexible module mounting solution. The FlexRack Series G3L also offers integrated bonding and wire management options. Stop by our booth to see a demo of the FlexRack Series G3L and learn about our full product line of racking innovations.