Japan Builds World's Largest Floating Wind Turbine off Fukushima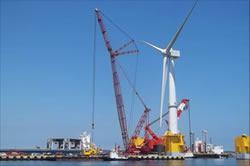 by ARATA YAMAMOTO for NBC News: Engineers in Japan have installed the world's largest floating wind turbine, a towering 344-foot structure that is billed as being able to withstand 65-foot waves and even tsunamis.
The 7 megawatt turbine was fastened to the seabed last week by four 20-ton anchors about 12 miles off the Fukushima coast.
Its installation was delayed four times because of consecutive typhoons in the region. But one of its chief engineers, Katsunobu Shimizu, told NBC News that the turbine — which is about the same height as London's St. Paul's Cathedral — would be able to withstand even the most extreme conditions.
"These turbines and anchors are designed to withstand 65-foot waves," Shimizu said during a sea tour of the turbine given from a boat off the coast. "Also, here we can get 32-foot-tall tsunamis. That's why the chains are deliberately slackened."
If a large wave were to push the turbine up, down or to the side, the loose chains connecting the structure to the seabed would give it the freedom to move without being damaged, he said. Cont'd...
Comments (0)
This post does not have any comments. Be the first to leave a comment below.
---
Post A Comment
You must be logged in before you can post a comment. Login now.
Featured Product
The sonnenBatterie eco is a fully-integrated, all-in-one residential energy storage solution that utilizes intelligent energy management software and lithium-ion batteries to turn houses into smart energy homes. The system is available in a variety of storage capacities and configurations, allowing for extensibility and expansion and integrates with new and existing PV systems. The sonnenBatterie eco allows customers to save money every single day by storing excess energy generated by solar PV systems and using the stored energy from the battery to power homes when the utility rates are more expensive or when the grid is out of service in addition to enabling customers to go off-grid.