Norway Could Provide 20,000MW of Energy Storage to Europe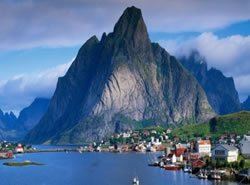 Mike Stone for GTM: Norway has a lot of hydroelectric plants: a total of 937 of them, which provide a population of 5 million with around 98 percent of its electricity. In fact, the Scandinavian country is home to roughly half of all the hydroelectric water storage reservoirs in Europe.
This vast system could also offer a Europe a substantial amount of energy storage -- up to 20 gigawatts of it -- if an ambitious scheme currently being proposed can overcome political and social hurdles and get the necessary funding. That's according to Kaspar Vereide, an engineer at the Norwegian University of Science and Technology in Trondheim. And his models suggest it could all be achieved in seven years.
Vereide is not alone in thinking Norway could become a vast green battery for Europe. The Centre for Environmental Design of Renewable Energy has concluded that there are four realistic scenarios for pumped hydro energy storage in the country, ranging from a Nordics-only scenario, where Norway only looks after its own needs, plus some of those of its Scandinavian neighbors; to a so-called 'big storage' scenario, which, it says, would see "Norwegian hydropower play an important role in integrating variable renewable sources into the European power system by providing large volumes of balancing over various time horizons to the North Sea countries through highly integrated grids and power markets."
It's this "big storage" scenario -- with Norway becoming "the green battery of Europe" -- that Vereide has in mind. Cont'd...
Comments (0)
This post does not have any comments. Be the first to leave a comment below.
---
Post A Comment
You must be logged in before you can post a comment. Login now.
Featured Product
The Iron Edison Lithium Iron solar battery is fully compatible with popular battery-based inverters and is housed inside a rugged steel enclosure with integrated Battery Management System. Standard capacities range from 2 kWh to 42 kWh, with custom high-capacity and high-voltage models available for commercial applications like peak load shaving and UPS. The battery is designed and assembled at the company's headquarters just outside of Denver, Colorado. The Iron Edison Lithium Iron battery is an ideal replacement for lead-acid battery, with longer cycle life, smaller footprint, and maintenance-free operation. Residential applications include solar battery backup, grid-zero and off-grid energy storage. Commercial applications include high voltage battery backup, off-grid telecommunications power and peak load shaving. If you have any questions, please call us at 720-432-6433. We are happy to help!