Balls of DNA Could Fix Geothermal Energy's Biggest Problem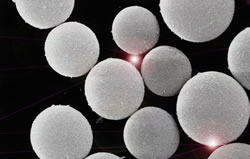 Shara Tonn for Wired.com: Geothermal Power has the potential to be cheap, reliable, and abundant—running off the heat of the Earth 24 hours a day, seven days a week. That's especially true thanks to a new generation of home-grown geothermal plants, which don't run off the steam of natural hot springs and geysers. No need to find those hydrothermal gems; today, geothermal engineers are making their own reservoirs by drilling down into hot rock and pumping in water.
The catch? Engineers can't see what's happening underground. Drilling wells in just the right spot can be like playing golf blindfolded: Even if someone faces you in the right direction, you could still hit the ball way off the green. But tiny fragments of DNA dropped into the wells could soon help engineers follow the path of water underground, helping them sink their putts every time.
In a basic geothermal plant set-up, engineers actually have to drill two types of wells. The first kind, which goes down two or three miles, carries cold water down deep, where it fractures the hot rock and creates new paths for water to move. It's kind of like fracking, but without the chemicals. Cont'd...
Comments (0)
This post does not have any comments. Be the first to leave a comment below.
---
Post A Comment
You must be logged in before you can post a comment. Login now.
Featured Product
Solar FlexRack TDP™ Turnkey Trackers are the next generation, single-axis solar tracker solution, complete with comprehensive services and support. What sets this tracking solution apart is its updated tracking technology bundled with a full suite of best-in-class project services and support for commercial and utility-scale solar customers. The TDP Turnkey Tracker offers the lowest total cost solution by providing the only tracker in the industry that includes full design, installation, commissioning, and support services bundled in one contract. Solar FlexRack's TDP Solar Tracker solution is supported by an in-house team of experts that includes mechanical, structural, civil, electrical and geotechnical engineers and geologists. To learn more about Solar FlexRack's TDP Turnkey Tracker, one of the most cost-effective and comprehensive tracker solutions available, please visit: http://solarflexrack.com/products/tracker.