Concentrator Photovoltaics: The Next Step Towards Better Solar Power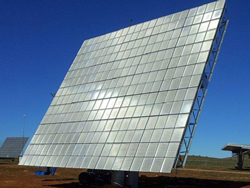 By Lauren J. Young for IEEE Spectrum: Today's concentrator photovoltaic (CPV) technologies have shown promising potential for more efficient solar power. The latest systems are said to be capable of handling the power of a hundred suns. Yet prototypes have failed to compete with cheaper flat panel solar systems that dominate the market. The U.S. Department of Energy's Advanced Research Projects Agency (ARPA-E) is determined to push CPV to the next level. On 24 August, at the Clean Energy Summit, U.S. President Barack Obama and Energy Secretary Ernest Monizannounced a program called MOSAIC that will invest $24 million into CPV solar technology development.
Why can't today's CPV systems compete? The concentrators can only convert direct sunlight into energy, missing out on the large fraction of sunlight diffracted by clouds and the atmosphere. Manufacturing costs of concentrator apparatuses have also prevented CPV from reaching mass production. Cont'd...
Comments (0)
This post does not have any comments. Be the first to leave a comment below.
---
Post A Comment
You must be logged in before you can post a comment. Login now.
Featured Product
Visit Booth #2886 at AWEA Windpower, May 22-25 in Anaheim, CA to see how Parker products, systems and services help you raise performance while reducing risk in wind energy environments. Parker has been on the forefront of windpower for over two decades, with solutions that touch virtually every critical function in the turbine. From integrated lube oil filtration systems and sealing technologies that make drive trains more reliable and bearings operate like new to compact blade pitch actuation systems that maximize rotor efficiency and minimize vibrations in the turbine. Parker has the solutions that make today's advanced and sophisticated wind power plants better and smarter. Case in point? Our high efficiency power conversion systems that deliver optimum power to the grid. While our scalable evaporative cooling system lowers overall system cost with up to 40% higher power throughput.