As California Rolls Out More Solar Power, Regulators Could Undercut The Industry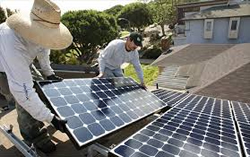 Ken Silverstein for Forbes: The fall season is kicking off a sizzling solar power debate in California and one that has the potential to undercut the state's climate mission.
Utility regulators there are in discussions over how to balance the interest of rooftop solar generators with the utilities on which they will still depend. Just how those hearings are resolved with have implications for the rollout of renewable energy not just in California but also around the country.
At issue is something called "net metering," which is technical term used to measure the amount of money that rooftop solar generators should get paid relative to retail electricity prices. Utilities, generally, want to offer them the wholesale rate for what they send to them over the grid. Those are expensive wires to maintain and ones that all customers will use, even those who power their homes with solar panels. That's because the sun is not always shining and the utilities would then have to provide them electricity over their networks.
The present net metering rules in California were set a dozen years ago, with the intent that they would expire when solar penetration reached 5 percent at any of three investor-owned utilities: Edison International's SoCalEd, PG&E Corp. and Sempra Energy, which is nearing the threshold. Generally, those utilities are paying customers the full retail value for their electricity generated and transmitted. Cont'd...
Comments (0)
This post does not have any comments. Be the first to leave a comment below.
---
Post A Comment
You must be logged in before you can post a comment. Login now.
Featured Product
The Iron Edison Lithium Iron solar battery is fully compatible with popular battery-based inverters and is housed inside a rugged steel enclosure with integrated Battery Management System. Standard capacities range from 2 kWh to 42 kWh, with custom high-capacity and high-voltage models available for commercial applications like peak load shaving and UPS. The battery is designed and assembled at the company's headquarters just outside of Denver, Colorado. The Iron Edison Lithium Iron battery is an ideal replacement for lead-acid battery, with longer cycle life, smaller footprint, and maintenance-free operation. Residential applications include solar battery backup, grid-zero and off-grid energy storage. Commercial applications include high voltage battery backup, off-grid telecommunications power and peak load shaving. If you have any questions, please call us at 720-432-6433. We are happy to help!