Cloaking Principle Could Boost Solar Cell Performance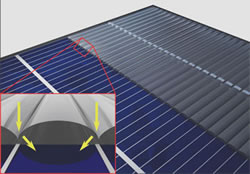 Invisibility cloaking may be a long way from reality, but the principle could help improve the performance of solar cells in the near term.
In a series of simulations, researchers at the Karlsruhe Institute of Technology have demonstrated how cloaks made of metamaterials or freeform surfaces could eliminate shadows cast by energy-harvesting components onto the active surfaces of solar cells.
Contact fingers, which extract electric current, cover up to one-tenth of the surface area of a solar cell. By guiding light around these features, more of the sun's energy could be captured by the solar cell.
"Our model experiments have shown that the cloak layer makes the contact fingers nearly completely invisible," said doctoral student Martin Schumann. Cont'd...

Comments (0)
This post does not have any comments. Be the first to leave a comment below.
---
Post A Comment
You must be logged in before you can post a comment. Login now.
Featured Product
The sonnenBatterie eco is a fully-integrated, all-in-one residential energy storage solution that utilizes intelligent energy management software and lithium-ion batteries to turn houses into smart energy homes. The system is available in a variety of storage capacities and configurations, allowing for extensibility and expansion and integrates with new and existing PV systems. The sonnenBatterie eco allows customers to save money every single day by storing excess energy generated by solar PV systems and using the stored energy from the battery to power homes when the utility rates are more expensive or when the grid is out of service in addition to enabling customers to go off-grid.