Morocco to Build World's Largest Concentrated Solar Power Plant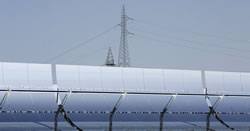 Cole Mellino for EcoWatch: Morocco imports 97 percent of its energy, and yet it has one of the highest rates of solarinsolation of any country—about 3,000 hours of sunshine per year, according to the Solar GCC Alliance. To put that in perspective, the Guinness Book of World Records puts Yuma, Arizona as the sunniest place on Earth with an average of 4,055 hours of sunshine per year (the theoretical maximum is 4,456), whereas the sunniest place in Germany, which still has a robust solar industry, gets a mere 1,800 sunshine hours a year. So it's no surprise that Morocco is tapping into its abundant sunshine for energy.
Morocco is building "a complex of four linked solar mega-plants that, alongside hydro andwind, will help provide nearly half of Morocco's electricity from renewables by 2020," reports The Guardian. When the entire project is finished, it will be the world's largest concentrated solar power plant in the world. The first phase, Noor 1, will go live next month. Cont'd...

Comments (0)
This post does not have any comments. Be the first to leave a comment below.
---
Post A Comment
You must be logged in before you can post a comment. Login now.
Featured Product
Visit Booth #2886 at AWEA Windpower, May 22-25 in Anaheim, CA to see how Parker products, systems and services help you raise performance while reducing risk in wind energy environments. Parker has been on the forefront of windpower for over two decades, with solutions that touch virtually every critical function in the turbine. From integrated lube oil filtration systems and sealing technologies that make drive trains more reliable and bearings operate like new to compact blade pitch actuation systems that maximize rotor efficiency and minimize vibrations in the turbine. Parker has the solutions that make today's advanced and sophisticated wind power plants better and smarter. Case in point? Our high efficiency power conversion systems that deliver optimum power to the grid. While our scalable evaporative cooling system lowers overall system cost with up to 40% higher power throughput.