Renewable Energy Surpasses Coal in the UK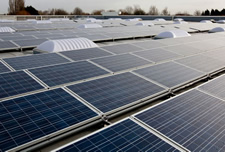 Written by Keith Kohl for Energy & Capital: For the first time ever, more energy in the UK was supplied by renewable sources than coal. For an entire quarter. Wind, solar, and bioenergy checked in at 25% of the energy supplied.
All of this was possible due to the fact that more wind turbines and solar panels were installed, which must be a good amount if you want to compare it to the same period last year, for which these energy options only accounted for 16.4% of electricity.
Recently, the UK has been working to close aging coal and nuclear power plants.
Of course, this will lead to its own issues...
[Solar Panels] Conservative ministers collectively believe that the subsidies given to renewable energy were too numerous, going so far as to suggest plans for an 87% reduction of solar power, and to cut support for onshore wind farms.
With that kind of spending cut, it's not surprising to hear that industry execs believe these actions would unjustly put an end to renewable energy just as it was gaining traction. Cont'd...
Comments (0)
This post does not have any comments. Be the first to leave a comment below.
---
Post A Comment
You must be logged in before you can post a comment. Login now.
Featured Product
The Sunny Boy 5.0-US / 6.0-US features a wealth of improvements and joins SMA's lineup of field-proven solar technology backed by the world's #1 service team. The world's first Secure Power Supply now delivers up to 2,000 W of opportunity power when the grid goes down and the sun is shining. Installation has never been easier thanks to SMA's Installation Assistant, direct access via smartphone, and integrated DC disconnect. The Sunny Boy's multiple independent input channels, each with SMA's OptiTrac™ Global Peak, mean hundreds of stringing configurations for flexible system design while solving the challenges of complex roofs and shading. The residential PV market is changing rapidly, and we understand that your bottom line matters more than ever. That's why we've designed a superior residential solution that will help you decrease costs throughout all stages of your business model. The Sunny Boy 5.0-US and 6.0-US are once again raising the bar by offering improved performance, enhanced features, and most importantly, cost savings across the entire spectrum of residential installation processes.