Large solar projects can be done responsibly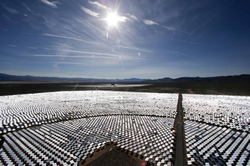 BY SHANNON EDDY, Special to The Bee: As the seventh-largest economy in the world and a clean-energy leader, California plays a key role in shaping the global response to climate change. The benefits of our leadership will be on the world stage later this month during the international climate talks in Paris.
Over several decades, California has successfully advanced the development of renewable energy resources. As a result, the state boasts the highest concentration of solar projects in the nation, including several of the world's largest. Large-scale solar power plants are enabling California to meet the goals of reducing carbon emissions to 1990 levels by 2020 and generating 50 percent of its electricity from renewable sources by 2030.
Eleakis & Elder Photography
As with any fast-growing, successful industry, it's essential to ask questions about unintended consequences. We agree it is important to evaluate how the environmental benefits of large-scale solar – carbon reduction, reduced water use and improved local air quality – compare to any negative consequences for people and the environment. Cont'd...
Comments (0)
This post does not have any comments. Be the first to leave a comment below.
---
Post A Comment
You must be logged in before you can post a comment. Login now.
Featured Product
The Zilla® Phantom is a revolutionary new rail-less solar mounting system. Building on the popular Zilla® Double Stud Flashing, the Phantom can mount anywhere on composite roofs, not just on joists. Additionally, the Zilla® Phantom streamlines distribution and transportation allowing for a safer, easier and more economical solar installation. The Phantom is a fully flashed and grounded system and includes everything necessary to complete a rooftop solar installation. The Zilla® Phantom affords unparalleled layout flexibility and field adjustability that simplify every step of the installation process. Visit ZillaRac.com to learn more.