Large solar projects can be done responsibly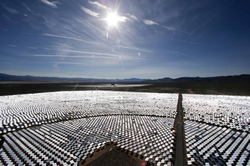 BY SHANNON EDDY, Special to The Bee: As the seventh-largest economy in the world and a clean-energy leader, California plays a key role in shaping the global response to climate change. The benefits of our leadership will be on the world stage later this month during the international climate talks in Paris.
Over several decades, California has successfully advanced the development of renewable energy resources. As a result, the state boasts the highest concentration of solar projects in the nation, including several of the world's largest. Large-scale solar power plants are enabling California to meet the goals of reducing carbon emissions to 1990 levels by 2020 and generating 50 percent of its electricity from renewable sources by 2030.
Eleakis & Elder Photography
As with any fast-growing, successful industry, it's essential to ask questions about unintended consequences. We agree it is important to evaluate how the environmental benefits of large-scale solar – carbon reduction, reduced water use and improved local air quality – compare to any negative consequences for people and the environment. Cont'd...
Comments (0)
This post does not have any comments. Be the first to leave a comment below.
---
Post A Comment
You must be logged in before you can post a comment. Login now.
Featured Product
Visit Booth #2886 at AWEA Windpower, May 22-25 in Anaheim, CA to see how Parker products, systems and services help you raise performance while reducing risk in wind energy environments. Parker has been on the forefront of windpower for over two decades, with solutions that touch virtually every critical function in the turbine. From integrated lube oil filtration systems and sealing technologies that make drive trains more reliable and bearings operate like new to compact blade pitch actuation systems that maximize rotor efficiency and minimize vibrations in the turbine. Parker has the solutions that make today's advanced and sophisticated wind power plants better and smarter. Case in point? Our high efficiency power conversion systems that deliver optimum power to the grid. While our scalable evaporative cooling system lowers overall system cost with up to 40% higher power throughput.