UK building the world's largest offshore wind farm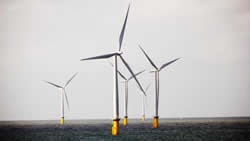 By Kelly Hodgkins for Digital Trends: Danish state-owned company Dong Energy A/S plans to set a new world record for the world's largest offshore wind farm, breaking the existing record currently held by the 630-megawatt London Array, another facility built by Dong. The new U.K. wind farm will be located in the Irish Sea, about 12 miles off the west coast of Great Britain.​ When commissioned, it will provide enough energy to power almost a half million homes.
It's no surprise that Dong is behind this effort, as it is Denmark's largest energy company and the world's largest developer of offshore wind power. The company has a longstanding relationship with the UK, constructing and, in some cases, operating multiple offshore wind facilities, including those in Barrow, Burbo Bank, and Walney Island. Between these projects and others in Germany, Dong now has a total of 5.1 gigawatts of offshore wind capacity. It aims to expand this capacity even further with a projected goal of 6.5 gigawatts of offshore wind energy production by 2020. Cont'd...
Comments (0)
This post does not have any comments. Be the first to leave a comment below.
---
Post A Comment
You must be logged in before you can post a comment. Login now.
Featured Product
The Iron Edison Lithium Iron solar battery is fully compatible with popular battery-based inverters and is housed inside a rugged steel enclosure with integrated Battery Management System. Standard capacities range from 2 kWh to 42 kWh, with custom high-capacity and high-voltage models available for commercial applications like peak load shaving and UPS. The battery is designed and assembled at the company's headquarters just outside of Denver, Colorado. The Iron Edison Lithium Iron battery is an ideal replacement for lead-acid battery, with longer cycle life, smaller footprint, and maintenance-free operation. Residential applications include solar battery backup, grid-zero and off-grid energy storage. Commercial applications include high voltage battery backup, off-grid telecommunications power and peak load shaving. If you have any questions, please call us at 720-432-6433. We are happy to help!