Spending and Tax Deal Brings ITC and PTC Extensions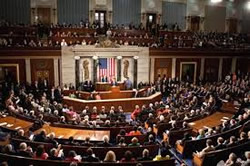 Sahir Surmeli for National Law Review: Early Wednesday morning Congressional leaders reached agreement on a year-end spending and massive tax deal that would prevent a government shutdown and extend a series of tax breaks that benefit businesses and individuals. The agreement has major implications for the future of the energy industry and is being hailed by many as a dramatic victory for those in the renewable energy community.
The Investment Tax Credit (ITC), which was slated to drop to 10 percent from 30 percent for solar systems on commercial properties after 2016, would now remain at 30 percent for projects that start construction by December 31, 2019. Projects that start construction in 2020 would qualify for a 26 percent credit and that level would drop to 22 percent for facilities started in 2021. From 2022 on it would remain at 10 percent. Cont'd...
Comments (0)
This post does not have any comments. Be the first to leave a comment below.
---
Post A Comment
You must be logged in before you can post a comment. Login now.
Featured Product
The Sunny Boy 5.0-US / 6.0-US features a wealth of improvements and joins SMA's lineup of field-proven solar technology backed by the world's #1 service team. The world's first Secure Power Supply now delivers up to 2,000 W of opportunity power when the grid goes down and the sun is shining. Installation has never been easier thanks to SMA's Installation Assistant, direct access via smartphone, and integrated DC disconnect. The Sunny Boy's multiple independent input channels, each with SMA's OptiTrac™ Global Peak, mean hundreds of stringing configurations for flexible system design while solving the challenges of complex roofs and shading. The residential PV market is changing rapidly, and we understand that your bottom line matters more than ever. That's why we've designed a superior residential solution that will help you decrease costs throughout all stages of your business model. The Sunny Boy 5.0-US and 6.0-US are once again raising the bar by offering improved performance, enhanced features, and most importantly, cost savings across the entire spectrum of residential installation processes.