California narrowly upholds critical solar policy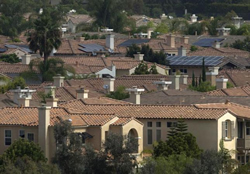 NICHOLA GROOM for Reuters: California, which boasts more than half of the households with solar panels in the United States, on Thursday extended a policy that has underpinned the rooftop solar industry's dramatic growth over the last decade.
The 3-to-2 decision by California's Public Utilities Commission at a meeting in San Francisco to extend net metering was a major victory for the solar industry, including companies like SolarCity Corp, Sunrun and SunPower Corp.
Net metering allows homeowners with solar panels to sell the power they generate but don't use back to their utility at the full retail rate, sometimes giving them a credit on their bill at the end of the month. The 20-year policy has been critical to making solar cost competitive.
But the narrow victory underscored palpable frustrations with the policy, which has been criticized for rewarding solar users while leaving other ratepayers to shoulder the cost of maintaining the electricity grid.
"I will be the first to say that I think we really have a ways to go before we have a really enduring rooftop strategy," said PUC President Michael Picker, who voted in favor of extending the policy.
The PUC will reconsider net metering again in 2019. Cont'd...
Comments (0)
This post does not have any comments. Be the first to leave a comment below.
---
Post A Comment
You must be logged in before you can post a comment. Login now.
Featured Product
The Sunny Boy 5.0-US / 6.0-US features a wealth of improvements and joins SMA's lineup of field-proven solar technology backed by the world's #1 service team. The world's first Secure Power Supply now delivers up to 2,000 W of opportunity power when the grid goes down and the sun is shining. Installation has never been easier thanks to SMA's Installation Assistant, direct access via smartphone, and integrated DC disconnect. The Sunny Boy's multiple independent input channels, each with SMA's OptiTrac™ Global Peak, mean hundreds of stringing configurations for flexible system design while solving the challenges of complex roofs and shading. The residential PV market is changing rapidly, and we understand that your bottom line matters more than ever. That's why we've designed a superior residential solution that will help you decrease costs throughout all stages of your business model. The Sunny Boy 5.0-US and 6.0-US are once again raising the bar by offering improved performance, enhanced features, and most importantly, cost savings across the entire spectrum of residential installation processes.