Scientists are using satellites to find untapped sources of geothermal energy under cities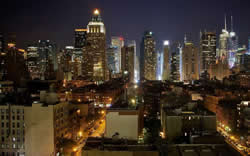 Peter Dockrill for ScienceAlert: Urban environments are often hotter than rural areas due to the way city structures trap and generate excess heat. This phenomenon, called urban heat islands, was first observed in the 1800s, but a new way of gauging it could help us make the most of this untapped source of geothermal energy.
Scientists in Germany and Switzerland have developed a means of estimating groundwater temperature hidden under the surface of our cities, based on surface temperatures and the density of buildings as measured by satellites.
A range of factors, including population density, vegetation levels, surface sealing, industrial structures, and transport all contribute to why cities are often hotter than the country.
But while scientists have long used satellites to measure heat on the surface, the relationship between ground temperatures and underground temperatures has not been fully explored. Cont'd...
Comments (0)
This post does not have any comments. Be the first to leave a comment below.
---
Post A Comment
You must be logged in before you can post a comment. Login now.
Featured Product
The sonnenBatterie eco is a fully-integrated, all-in-one residential energy storage solution that utilizes intelligent energy management software and lithium-ion batteries to turn houses into smart energy homes. The system is available in a variety of storage capacities and configurations, allowing for extensibility and expansion and integrates with new and existing PV systems. The sonnenBatterie eco allows customers to save money every single day by storing excess energy generated by solar PV systems and using the stored energy from the battery to power homes when the utility rates are more expensive or when the grid is out of service in addition to enabling customers to go off-grid.