Apple leftovers key for future energy storage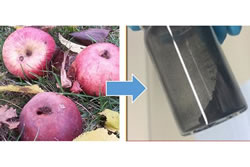 By Tereza Pultarova for E&T: German researchers have developed a new carbon-based active material that can be manufactured from apple leftovers and used to build better energy storage systems.
The apple-based material can be used as the negative electrode in sodium-ion batteries, which are currently being researched as a more environmentally friendly and cheaper alternative to lithium-ion batteries.
Instead of energy-intensive lithium mining, which frequently damages the environment, battery manufacturers in future could be using organic waste to make batteries.
In tests, the new material discovered by researchers from the Helmholtz Institute Ulm of Karlsruhe Institute of Technology, has demonstrated 'excellent electrochemical properties', allowing the researchers to carry out 1000 charge and discharge cycles during which the apple-based battery demonstrated high stability as well as capacity. Cont'd...
Comments (0)
This post does not have any comments. Be the first to leave a comment below.
---
Post A Comment
You must be logged in before you can post a comment. Login now.
Featured Product
Sun Bandit® is a revolutionary new way in which solar is used to heat water. This innovative new technology utilizes PV technology to deliver clean, reliable hot water by putting the free energy of the sun to work for you in ways that makes owning a solar system more practical and affordable than ever before. Achieving energy independence has never been easier than with a Sun Bandit® Solar Hybrid Energy System. Sun Bandit® patented technologies eliminates the need for complex solar mechanical water heating and replaces it with clean, simple to install and easy to enjoy PV technology to effectively and efficiently provide hot water. With advance micro grid technology and design, Sun Bandit® can deliver hot water even when the grid goes down. Sun Bandit® is the simplest solar hot water solution on the market, providing the most easy-to-use and economical way to go solar.