EPFL Scientists Achieve Record-Level Reproducibility for Perovskite Solar Cells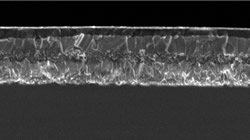 Perovskite solar cells hold much promise for cost-effective solar energy. However, heat stability is an issue, and can significantly limit the solar cell's long-term efficiency. A team of scientists led by Michael Grätzel's lab at EPFL has now developed a cesium-containing perovskite solar cell that has achieved efficiency of 21.1%, as well as record-level reproducibility. The work is published in Energy and Environmental Science.
By adding cesium, the EPFL scientists, led by postdoc Michael Saliba, made the first ever triple-cation perovskite mixture (Cs/MA/FA). The new films are more heat-stable and less affected by fluctuating surrounding variables such as temperature, solvent vapors or the heating protocol used for the device. But more importantly, they also show stabilized power-conversion efficiencies of 21.1% and outputs at 18% under operational conditions, even after 250 hours.
"This is an absolute breakthrough," says Michael Saliba. "These properties are crucial for commercializing perovskite photovoltaics, especially since reproducibility and stability are the main requirements for cost-effective large-scale manufacturing of perovskite solar cells." Source AZOCleantech...
Comments (0)
This post does not have any comments. Be the first to leave a comment below.
---
Post A Comment
You must be logged in before you can post a comment. Login now.
Featured Product
The FCL model split-core current transformers have multiple benefits, including a flexible twisting motion for ease of application. Installing a split-core CT means there is no need to disconnect your primary conductor(s) which reduces downtime. Many customizations are available including extended secondary lead wire lengths, various outputs including 5A, 1A, 1VAC, and 0.333VAC, and custom rubber inserts to help center the CT and maintain accuracy. The FCL models can be used in applications up to 720VAC and have an operating frequency from 50Hz to 400Hz.