EPFL Scientists Achieve Record-Level Reproducibility for Perovskite Solar Cells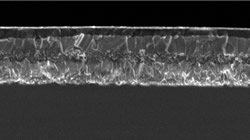 Perovskite solar cells hold much promise for cost-effective solar energy. However, heat stability is an issue, and can significantly limit the solar cell's long-term efficiency. A team of scientists led by Michael Grätzel's lab at EPFL has now developed a cesium-containing perovskite solar cell that has achieved efficiency of 21.1%, as well as record-level reproducibility. The work is published in Energy and Environmental Science.
By adding cesium, the EPFL scientists, led by postdoc Michael Saliba, made the first ever triple-cation perovskite mixture (Cs/MA/FA). The new films are more heat-stable and less affected by fluctuating surrounding variables such as temperature, solvent vapors or the heating protocol used for the device. But more importantly, they also show stabilized power-conversion efficiencies of 21.1% and outputs at 18% under operational conditions, even after 250 hours.
"This is an absolute breakthrough," says Michael Saliba. "These properties are crucial for commercializing perovskite photovoltaics, especially since reproducibility and stability are the main requirements for cost-effective large-scale manufacturing of perovskite solar cells." Source AZOCleantech...
Comments (0)
This post does not have any comments. Be the first to leave a comment below.
---
Post A Comment
You must be logged in before you can post a comment. Login now.
Featured Product
3M™ Extreme Sealing Tape is a family of single coated, pressure sensitive adhesive tapes designed for difficult sealing applications. The backing on this tape is an ionomer film that is very tough yet flexible and abrasion resistant. The very soft and thick acrylic adhesive has excellent sealing properties and good outdoor durability. This single coated tape is designed to seal over an existing joint, seam, or penetration. The adhesive is designed to adhere well to the ionomer film so that overlapping tape joints can be made while maintaining a strong seal. 3M™ Extreme Sealing Tape - instant sealing that rolls on fast and looks good.