Tesla Discontinues 10-Kilowatt-Hour Powerwall Home Battery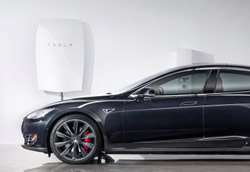 Julia Pyper for GTM: Tesla has quietly removed all references to its 10-kilowatt-hour residential battery from the Powerwall website, as well as the company's press kit. The company's smaller battery designed for daily cycling is all that remains.
The change was initially made without explanation, which prompted industry insiders to speculate. Today, a Tesla representative confirmed the 10-kilowatt-hour option has been discontinued.
"We have seen enormous interest in the Daily Powerwall worldwide," according to an emailed statement to GTM. "The Daily Powerwall supports daily use applications like solar self-consumption plus backup power applications, and can offer backup simply by modifying the way it is installed in a home. Due to the interest, we have decided to focus entirely on building and deploying the 7-kilowatt-hour Daily Powerwall at this time."
The 10-kilowatt-hour option was marketed as a backup power supply capable of 500 cycles, at a price to installers of $3,500. Tesla was angling to sell the battery to consumers that want peace of mind in the event the grid goes down, like during another Superstorm Sandy. The problem is that the economics for a lithium-ion backup battery just aren't that attractive. Cont'd...
Comments (0)
This post does not have any comments. Be the first to leave a comment below.
---
Post A Comment
You must be logged in before you can post a comment. Login now.
Featured Product
Iron Edison's Lithium Iron battery is for solar PV energy storage and compatible with 12-volt, 24-volt and 48-volt battery-based inverters. Available in a wide range of residential storage capacities, custom high-voltage models are also available for commercial applications like peak load shaving and UPS. Iron Edison's battery uses Lithium Iron Phosphate cells (LiFePO4), known to be the safest type within the lithium-ion family. Iron Edison's battery includes an integrated Battery Management System and DC disconnect for maximum safety. All components are housed inside a steel enclosure with removable lid.