Nanomaterials could double efficiency of solar cells by converting waste heat into usable energy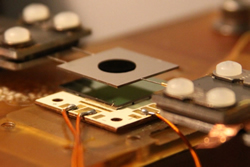 Devin Coldewey for TechCrunch: An experimental solar cell created by MIT researchers could massively increase the amount of power generated by a given area of panels, while simultaneously reducing the amount of waste heat. Even better, it sounds super cool when scientists talk about it: "with our own unoptimized geometry, we in fact could break the Shockley-Queisser limit."
The Shockley-Queisser limit, which is definitely not made up, is the theoretical maximum efficiency of a solar cell, and it's somewhere around 32 percent for the most common silicon-based ones.
You can get around this by various tricks like stacking cells, but the better option, according to David Bierman, a doctoral student on the team (and who is quoted above), will be thermophotovoltaics — whereby sunlight is turned into heat and then re-emitted as light better suited for the cell to absorb. Cont'd...
Comments (0)
This post does not have any comments. Be the first to leave a comment below.
---
Post A Comment
You must be logged in before you can post a comment. Login now.
Featured Product
In the monitoring of large photovoltaic (Utility Scale), in assessing potential sites (Solar-assessment), or in up and coming electricity cost saving initiatives projects (Commercial & Industrial), the WS510 now provides the market a secondary standard pyranometer, ultrasonic wind speed, ultrasonic wind direction, temperature, pressure and humidity all in a single unit.. This sensor meets the high demands of the world meteorological organization (WMO) through the active valving at air temperature measurement and the inertia- and maintenance-free measurement of wind speed and wind direction on the ultrasonic principle. Equipped with a Kipp & Zonen pyranometer of the secondary standards, the WS510-UMB Compact weather sensor from Lufft unites the precision of a variety of meteorological individual sensors in a single all-in-one device, for the first time.