BMW electric-car batteries to be used as home energy-storage devices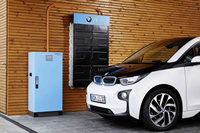 Stephen Edelstein for GreenCarReports: Tesla Motors was the first carmaker to branch out from selling electric cars to offering standalone battery packs for energy storage, but others have followed the company's lead.
Mercedes-Benz and Nissan have stated their intentions to enter the energy-storage market, and now BMW is jumping on the bandwagon as well.
At the Electric Vehicle Symposium & Exhibition 29—known as EVS29—held this week in Montreal, Canada, BMW unveiled an energy-storage system that uses battery packs from i3 electric cars.
Developed in concert with German firm Beck Automation, BMW's system is designed to use either new battery packs or "second-life" packs that have degraded too much for continued use in electric cars.
Battery packs that can no longer function in cars still have enough usable capacity for energy storage.
BMW has tested the concept over the past five years with various research projects, including a 2013 "micro-grid" project with the University of San Diego, and a 2014 collaboration in Germany with utility Vattenfall to use electric-car battery packs as buffer to help stabilize electricity grids. Cont'd...
Comments (0)
This post does not have any comments. Be the first to leave a comment below.
---
Post A Comment
You must be logged in before you can post a comment. Login now.
Featured Product
The Seaward Solar PV210 PV installation tester provides a highly efficient and effective test and diagnostic solution for PV systems, carrying out all commissioning tests required by IEC 62446 and performing fast and accurate measurement of I-V curves in accordance with IEC 61829. With direct connection to individual PV modules or strings using the supplied lead sets, tests can be conducted easily and within a matter of seconds at the press of a single button.