Belgian scientists make novel water-from-urine machine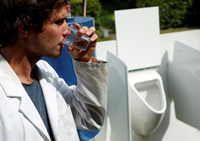 Reuters: A team of scientists at a Belgian university say they have created a machine that turns urine into drinkable water and fertilizer using solar energy, a technique which could be applied in rural areas and developing countries.
While there are other options for treating waste water, the system applied at the University of Ghent uses a special membrane, is said to be energy-efficient and to be applicable in areas off the electricity grid.
"We're able to recover fertilizer and drinking water from urine using just a simple process and solar energy," said University of Ghent researcher Sebastiaan Derese.
The urine is collected in a big tank, heated in a solar-powered boiler before passing through the membrane where the water is recovered and nutrients such as potassium, nitrogen and phosphorus are separated. Cont'd...
Comments (0)
This post does not have any comments. Be the first to leave a comment below.
---
Post A Comment
You must be logged in before you can post a comment. Login now.
Featured Product
The Iron Edison Lithium Iron solar battery is fully compatible with popular battery-based inverters and is housed inside a rugged steel enclosure with integrated Battery Management System. Standard capacities range from 2 kWh to 42 kWh, with custom high-capacity and high-voltage models available for commercial applications like peak load shaving and UPS. The battery is designed and assembled at the company's headquarters just outside of Denver, Colorado. The Iron Edison Lithium Iron battery is an ideal replacement for lead-acid battery, with longer cycle life, smaller footprint, and maintenance-free operation. Residential applications include solar battery backup, grid-zero and off-grid energy storage. Commercial applications include high voltage battery backup, off-grid telecommunications power and peak load shaving. If you have any questions, please call us at 720-432-6433. We are happy to help!