San Bernardino County rejects a controversial solar power plant proposed for the Mojave Desert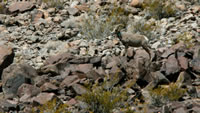 Louis Sahagun for The LA Times: The San Bernardino County Board of Supervisors has rejected a controversial solar plant proposed for the Mojave Desert's Soda Mountains, citing concerns that the project would destroy habitat and block ancient trails used by bighorn sheep for thousands of years.
In a 3-2 vote, the board on Tuesday declined to certify documents required under state law in order to issue county permits for the project on public land along Interstate 15 near the entrances to Joshua Tree National Park and Death Valley National Park, and less than a mile from the Mojave National Preserve.
"We endorse renewable energy, but this was the wrong project in the wrong location," said Supervisor Robert A. Lovingood. Cont'd...
Comments (0)
This post does not have any comments. Be the first to leave a comment below.
---
Post A Comment
You must be logged in before you can post a comment. Login now.
Featured Product
The Sunny Boy 5.0-US / 6.0-US features a wealth of improvements and joins SMA's lineup of field-proven solar technology backed by the world's #1 service team. The world's first Secure Power Supply now delivers up to 2,000 W of opportunity power when the grid goes down and the sun is shining. Installation has never been easier thanks to SMA's Installation Assistant, direct access via smartphone, and integrated DC disconnect. The Sunny Boy's multiple independent input channels, each with SMA's OptiTrac™ Global Peak, mean hundreds of stringing configurations for flexible system design while solving the challenges of complex roofs and shading. The residential PV market is changing rapidly, and we understand that your bottom line matters more than ever. That's why we've designed a superior residential solution that will help you decrease costs throughout all stages of your business model. The Sunny Boy 5.0-US and 6.0-US are once again raising the bar by offering improved performance, enhanced features, and most importantly, cost savings across the entire spectrum of residential installation processes.