Wind power fiercer than expected, study finds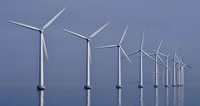 Phys.org: University of Delaware researchers report in a new study that offshore wind may be more powerful, yet more turbulent than expected in the North Eastern United States.
The findings, published in a paper in the Journal of Geophysical Research: Atmospheres, could have important implications for the future development of offshore wind farms in the U.S., including the assessment of how much wind power can be produced, what type of turbines should be used, how many turbines should be installed and the spacing between each.
The study, led by Cristina Archer at UD and Brian Colle at Stony Brook University, analyzed historical data from 2003-2011 at the Cape Wind tower located near the center of Nantucket Sound off the coast of Martha's Vineyard, Massachusetts, and collected complementary data at the same location in 2013-2014.
Co-authors on the paper, titled "On the predominance of unstable atmospheric conditions in the marine boundary layer offshore of the U.S. northeastern coast," include UD professors Dana Veron and Fabrice Veron, and Matthew Sienkiewicz from Stony Brook.
The paper's main finding is that atmospheric conditions around Cape Wind are predominantly turbulent, or unstable, which is in stark contrast to prevailing data from European offshore wind farms in the Baltic Sea and the North Sea. European studies of offshore wind document that atmospheric conditions there are predominantly neutral— meaning neither too windy nor too still, but somewhere in the middle, with unstable wind conditions occurring only 20 percent of the time. Cont'd...
Comments (0)
This post does not have any comments. Be the first to leave a comment below.
---
Post A Comment
You must be logged in before you can post a comment. Login now.
Featured Product
The Iron Edison Lithium Iron solar battery is fully compatible with popular battery-based inverters and is housed inside a rugged steel enclosure with integrated Battery Management System. Standard capacities range from 2 kWh to 42 kWh, with custom high-capacity and high-voltage models available for commercial applications like peak load shaving and UPS. The battery is designed and assembled at the company's headquarters just outside of Denver, Colorado. The Iron Edison Lithium Iron battery is an ideal replacement for lead-acid battery, with longer cycle life, smaller footprint, and maintenance-free operation. Residential applications include solar battery backup, grid-zero and off-grid energy storage. Commercial applications include high voltage battery backup, off-grid telecommunications power and peak load shaving. If you have any questions, please call us at 720-432-6433. We are happy to help!