New solar panel integrates battery storage, inverter, and smart software into a single unit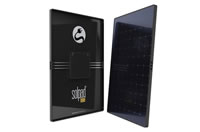 Derek Markham for TreeHugger: This startup is reinventing the solar panel, and aims to cut the cost of integrating clean power and energy storage to homes by half.
Home solar has the potential to reduce, and even eliminate, electricity costs for many people, but even with the rapid advancements we're seeing in solar technology, there are still weak points that can be addressed and overcome, such as energy storage and 'smart' home integration. But a newcomer to the residential solar scene believes it has the answer, in the form of a standalone solar and battery unit which can be used singly or connected in an array, and which may be able to lower the overall costs considerably.
SunCulture's SolPad solar device integrates solid state batteries directly into the solar panels themselves, offering its users the ability to not only generate their own clean electricity, but to also store if for use after dark or during peak demand times, when electricity costs are higher. The SolPad units also incorporate an inverter, which converts the electricity from the DC generated and stored by the device to the AC required by most household appliances, and includes "intelligent software" that communicates with both the users and with their home's systems, allowing for granular control over which rooms or devices will receive the solar power. Cont'd...
Comments (0)
This post does not have any comments. Be the first to leave a comment below.
---
Post A Comment
You must be logged in before you can post a comment. Login now.
Featured Product
Visit Booth #2886 at AWEA Windpower, May 22-25 in Anaheim, CA to see how Parker products, systems and services help you raise performance while reducing risk in wind energy environments. Parker has been on the forefront of windpower for over two decades, with solutions that touch virtually every critical function in the turbine. From integrated lube oil filtration systems and sealing technologies that make drive trains more reliable and bearings operate like new to compact blade pitch actuation systems that maximize rotor efficiency and minimize vibrations in the turbine. Parker has the solutions that make today's advanced and sophisticated wind power plants better and smarter. Case in point? Our high efficiency power conversion systems that deliver optimum power to the grid. While our scalable evaporative cooling system lowers overall system cost with up to 40% higher power throughput.