Tesla Wins Large Contract with Utility for Energy Storage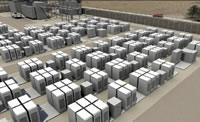 Jon LeSage for HybridCars: Tesla's energy storage division just won a very large contract with a major California utility to stabilize power outages.
While the acquisition cost hasn't been announced, Tesla Energy will supply 20 megawatts of energy storage to Southern California Edison – enough to power about 2,500 homes for a full day. It's part of SCE's efforts to prevent blackouts by fossil-fuel electricity generation with lithium-ion batteries. Investment in Tesla's product, called Powerpacks, is thought to be worth tens of millions of dollars, and is expected to be operational by the end of this year.
The deal ties into Tesla's plans to broaden its base beyond manufacturing and selling electric cars, similar to its recent investment in SolarCity. It also signifies advancements being made in energy storage, which is reaching a much faster pace – months instead of years, according to an analyst. Cont'd...
Comments (0)
This post does not have any comments. Be the first to leave a comment below.
---
Post A Comment
You must be logged in before you can post a comment. Login now.
Featured Product
The Iron Edison Lithium Iron solar battery is fully compatible with popular battery-based inverters and is housed inside a rugged steel enclosure with integrated Battery Management System. Standard capacities range from 2 kWh to 42 kWh, with custom high-capacity and high-voltage models available for commercial applications like peak load shaving and UPS. The battery is designed and assembled at the company's headquarters just outside of Denver, Colorado. The Iron Edison Lithium Iron battery is an ideal replacement for lead-acid battery, with longer cycle life, smaller footprint, and maintenance-free operation. Residential applications include solar battery backup, grid-zero and off-grid energy storage. Commercial applications include high voltage battery backup, off-grid telecommunications power and peak load shaving. If you have any questions, please call us at 720-432-6433. We are happy to help!