Bike Path In Poland Can Glow For 20 Years Using Solar Power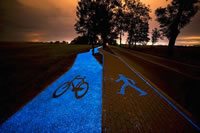 Andrew Conrad for PSFK: It's no Yellow Brick Road, but residents of Olsztyn, a town along the Lyna River in northern Poland, can now follow along this glowing bike path to travel safely to their destination. Using solar power, it is said that the path can remain illuminated for up to 20 years.
The engineering breakthrough, developed by Polish firm TPA, was unveiled in late September as a 100-meter trial section with plans for expansion. The asphalt in the path is blended with particles that absorb energy from the sun during daylight hours and then glow for up to 10 hours once the sun goes down. The plan is to increase the shorter section following winter. Cont'd...
Comments (0)
This post does not have any comments. Be the first to leave a comment below.
---
Post A Comment
You must be logged in before you can post a comment. Login now.
Featured Product
Iron Edison's Lithium Iron battery is for solar PV energy storage and compatible with 12-volt, 24-volt and 48-volt battery-based inverters. Available in a wide range of residential storage capacities, custom high-voltage models are also available for commercial applications like peak load shaving and UPS. Iron Edison's battery uses Lithium Iron Phosphate cells (LiFePO4), known to be the safest type within the lithium-ion family. Iron Edison's battery includes an integrated Battery Management System and DC disconnect for maximum safety. All components are housed inside a steel enclosure with removable lid.