Elon Musk wants to sell you a better-looking solar roof amid slowing growth for panels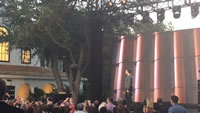 Ivan Penn and Russ Mitchell for The LA Times: Like some kind of 21st century Willy Wonka, audacious entrepreneur Elon Muskchose a prime spot on the Universal Studios Hollywood backlot tour to unveil his latest attempt to energize an industry — roofs that generate solar power but look like no other.
Musk, the chief executive of Tesla Motors and chairman of SolarCity, showcased a line of high-design solar roof tiles that would replace clunky solar panels and tie into an upgraded version of the Tesla wall-mounted battery for those times when the sun doesn't shine. The glass solar shingles resemble French slate, Tuscan barrel tile or more conventional roofing materials with a textured or smooth surface.
"The key is to make solar look good," Musk said during the product introduction staged on the old set of ABC's "Desperate Housewives" series, where he had re-roofed four of the Wisteria Lane houses. "If this is done right, all roofs will have solar." Cont'd..
Comments (0)
This post does not have any comments. Be the first to leave a comment below.
---
Post A Comment
You must be logged in before you can post a comment. Login now.
Featured Product
The sonnenBatterie eco is a fully-integrated, all-in-one residential energy storage solution that utilizes intelligent energy management software and lithium-ion batteries to turn houses into smart energy homes. The system is available in a variety of storage capacities and configurations, allowing for extensibility and expansion and integrates with new and existing PV systems. The sonnenBatterie eco allows customers to save money every single day by storing excess energy generated by solar PV systems and using the stored energy from the battery to power homes when the utility rates are more expensive or when the grid is out of service in addition to enabling customers to go off-grid.