Offshore wind energy system combines sea water and wind to create electricity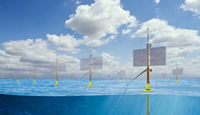 Megan Treacy for TreeHugger: We've seen our share of interesting wind power designs, but often the technology can't come anywhere close to matching what the traditional horizontal axis wind turbines can do. There's a reason that when we think of wind energy, we think of giant masts with rotating blades and it's because that design is incredibly effective -- just look at Scotland and other areas around the world that now get a majority of their electricity needs from wind power.
The design isn't without its flaws; those rotating blades do pose a hazard to birds and bats and the cost of manufacturing and installing all of those giant parts can be expensive. When it comes to offshore wind power in the U.S., that has been a major roadblock. The energy generation potential is huge, but so is the cost.
An energy start-up company called Accio Energy -- yes, a Harry Potter reference -- thinks it has a solution to that problem, one that will generate as much if not more energy from offshore wind than a traditional wind turbine, but at half the cost. There are no moving parts, instead Accio's technology consists of large permeable panels on masts that let the ocean winds blow right through. Cont'd...
Comments (0)
This post does not have any comments. Be the first to leave a comment below.
---
Post A Comment
You must be logged in before you can post a comment. Login now.
Featured Product
In the monitoring of large photovoltaic (Utility Scale), in assessing potential sites (Solar-assessment), or in up and coming electricity cost saving initiatives projects (Commercial & Industrial), the WS510 now provides the market a secondary standard pyranometer, ultrasonic wind speed, ultrasonic wind direction, temperature, pressure and humidity all in a single unit.. This sensor meets the high demands of the world meteorological organization (WMO) through the active valving at air temperature measurement and the inertia- and maintenance-free measurement of wind speed and wind direction on the ultrasonic principle. Equipped with a Kipp & Zonen pyranometer of the secondary standards, the WS510-UMB Compact weather sensor from Lufft unites the precision of a variety of meteorological individual sensors in a single all-in-one device, for the first time.