Two for the Price of One: Russian Scientists Build Solar+Wind Power Generator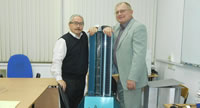 Sputnik News: A team of enterprising Russian scientists managed to develop a unique power generator that uses both solar and wind energy at the same time to produce electricity.
There have been numerous attempts before to produce a combo solar+wind power generator, but so far none have met success. Solar panels tend to wear out rather quickly due to the powerful air currents generated by wind turbines, which drastically limits the system's efficiency. But now, the combined efforts of the Central Aerohydrodynamic Institute, the Moscow Power Engineering Institute and a Zelenograd-based solar panel manufacturer have finally borne fruit. Cont'd...
Comments (0)
This post does not have any comments. Be the first to leave a comment below.
---
Post A Comment
You must be logged in before you can post a comment. Login now.
Featured Product
The most compact versatile rail-less PV mounting system under the sun. Instead of placing solar panels on top of long rails, simply attach E Mount AIR to rafters or the roof decking. Once panels are fastened to the roof, the system array is electrically bonded. The result is a visually seamless PV installation that stands the test of time. - Truly "One With The Roof". - PE stamped cert. letters available, UL 2703 Classified, ASTM 2140 fully waterproof. The one and only with integrated flexible flashing certified by the ICC! All the best quality. Only from Roof Tech