Trump Should Make Space-Based Solar Power A National Priority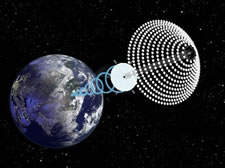 Bruce Dorminey , Contributor for Forbes: If President Trump were to champion space-based solar energy as a means of delivering unlimited, renewable electricity from Earth orbit, it's arguable that his administration could leave the U.S. and the world at large with a revolutionary new source of energy.
Space-based solar power (SBSP) --- in which satellites in Earth orbit capture the Sun's radiation, convert it to electricity and then transmit it back to Earth in the form of either microwaves or lasers --- would arguably do more to positively impact the lives of everyday Americans and fellow citizens of the world than almost anything the new President could champion.
Some 30 percent of all incoming solar radiation never makes it to Earth's surface, reports the U.S. Dept. of Energy (DOE). But, as the agency notes, in space, there's no atmosphere, seasons or weather to diminish the collection of our star's radiation. Full Article:
Comments (0)
This post does not have any comments. Be the first to leave a comment below.
---
Post A Comment
You must be logged in before you can post a comment. Login now.
Featured Product
Please join Parker's Energy Platform Solutions team at the upcoming Solar Power International show, September 10-13 at Mandalay Bay Convention Center in Las Vegas, NV. Our offering features a compact outdoor Power Conversion/Energy Storage System, complemented by an outdoor central solar inverter, both employing two-phase evaporative liquid cooling technology and modular compact designs. We will also feature axis tracker solutions with our hybrid actuator system that uses an intelligent position feedback sensor, as well as our independent wireless condition monitoring sensors for hydraulic pressure. To learn more about what we will display and launch at SPI, please click on the product sections below.