Trump Should Make Space-Based Solar Power A National Priority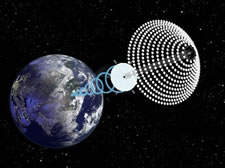 Bruce Dorminey , Contributor for Forbes: If President Trump were to champion space-based solar energy as a means of delivering unlimited, renewable electricity from Earth orbit, it's arguable that his administration could leave the U.S. and the world at large with a revolutionary new source of energy.
Space-based solar power (SBSP) --- in which satellites in Earth orbit capture the Sun's radiation, convert it to electricity and then transmit it back to Earth in the form of either microwaves or lasers --- would arguably do more to positively impact the lives of everyday Americans and fellow citizens of the world than almost anything the new President could champion.
Some 30 percent of all incoming solar radiation never makes it to Earth's surface, reports the U.S. Dept. of Energy (DOE). But, as the agency notes, in space, there's no atmosphere, seasons or weather to diminish the collection of our star's radiation. Full Article:
Comments (0)
This post does not have any comments. Be the first to leave a comment below.
---
Post A Comment
You must be logged in before you can post a comment. Login now.
Featured Product
Joyce Solar Jacks are specifically designed for heavy-duty solar tracking applications. Available in machine screw and ball screw models, these cost effective and efficient jacks precisely position loads at speeds typical of solar tracking applications. Configurations are available to meet individual customer tracking and positioning requirements. These jacks are designed for outdoor applications and built to stand up to environmental challenges found at solar installations around the world. Specifications: * Ideal for larger loads, 2 tons to 30 tons * Available in acme screw or ball screw * Suitable for utility or commercial installations * Integral trunnion mount * Long life/low maintenance design * Built to ISO 9001:2008 Standards. Joyce delivers more than the finished product. Quality is built into the whole process from expert engineering support during design conception to top-notch customer support after shipment. Contact Joyce for the products and support you need.