Thin layers of water hold promise for the energy storage of the future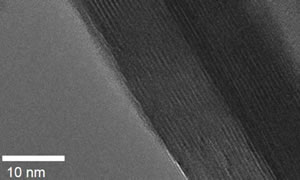 Matt Shipman for Phys.org: Researchers at North Carolina State University have found that a material which incorporates atomically thin layers of water is able to store and deliver energy much more quickly than the same material that doesn't include the water layers. The finding raises some interesting questions about the behavior of liquids when confined at this scale and holds promise for shaping future energy-storage technologies.
"This is a proof of concept, but the idea of using water or other solvents to 'tune' the transport of ions in a layered material is very exciting," says Veronica Augustyn, an assistant professor of materials science and engineering at NC State and corresponding author of a paper describing the work. "The fundamental idea is that this could allow an increased amount of energy to be stored per unit of volume, faster diffusion of ions through the material, and faster charge transfer.
"Again, this is only a first step, but this line of investigation could ultimately lead to things like thinner batteries, faster storage for renewable-based power grids, or faster acceleration in electric vehicles," Augustyn says.
"The goal for many energy-storage researchers is to create technologies that have the high energy density of batteries and the high power of capacitors," says James Mitchell, a Ph.D. student at NC State and lead author of the paper. "Pseudocapacitors like the one we discuss in the paper may allow us to develop technologies that bridge that gap." Full Article:
Comments (0)
This post does not have any comments. Be the first to leave a comment below.
---
Post A Comment
You must be logged in before you can post a comment. Login now.
Featured Product
The Darfon G320 is the microinverter solution for today's high-power solar modules. The G320 handles 60- and 72-cell modules up to 350W DC and outputs up to 300W AC. The G320's 3-phase configuration accommodates the electrical distribution systems of most commercial buildings and to reduce, if not eliminate, the need for expensive transformers. The G320 comes in four voltage/phase configurations, so it can be installed in residential, commercial or utility applications.