New York, 09/07/2015 - After opening an office in San Diego CA, Optimum Tracker, a company specialized in solar trackers for utility PV plants, will strengthen its presence on the American market at SPI 2015
Leading Solar Power and Clean Technology Companies to Hold Investor Meetings
Solar Power International (SPI) 2015, being held Sept. 14-17 at the Anaheim Convention Center in Anaheim, California
Commercial Lithium-ion Battery System Boasts a Life Expectancy of 12,000 Charge Cycles
The SP160 tracker represents the optimization of Grupo Clavijo's single-row tracking technology.
Solar Power International in Anaheim from September 14-17
2015 Solar Power International in Anaheim, CA, on September 14 - 17
Enhanced Residential PV Metering with Power Management
Fronius USA is pleased to announce its sponsorship and exhibition return to the 2015 Solar Power International tradeshow in Anaheim, California September 14th through the 17th.
CITEL is excited to be a part of SPI 2015 and to discuss changes to the UL1449 standard for Surge Protective Devices.
Advanced Racking Solutions delivers cost competitive mounting solutions designed to work with the roof. At SPI, ARS will launch Flash Guard, flashing designed by installers for shingle roofs. The innovative design makes installations fast while protecting against roof leaks. Flashing is sloped 1 degree to keep rails level to the roof. With unbeatable pricing, this installer preferred flashing is sure to receive lots of attention at Solar Power International 2015.
Records 61 to 71 of 71
Featured Product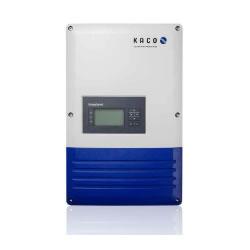 Small size, light weight, great features, best value! With a line-up of 1-phase transformerless units, KACO new energy will be inaugurating the new "blueplanet" solar PV inverter series. Newly designed and constructed from scratch, the blueplanet TL1 fulfil the highest requirements for optimum use in residential solar power plants.