Julia Pyper for GreenTechMedia: Amazon caused quite the stir in 2013 when it announced plans to launch a drone delivery service. People were both thrilled and horrified at the thought of flying robots delivering toilet paper to our doorsteps.
Some drone enthusiasts hoped to see Amazon launch a drone-based solar installation service -- but alas, that business doesn't exist. Yet.
Drones are already disrupting the solar sector, however.
This week at Intersolar North America, DroneDeploy, a cloud software platform provider for commercial drones, and DJI, a leading maker of drones and camera technology, announced a partnership that is expected to dramatically increase the efficiency of solar panel installation and inspection using drone-based thermal imagery capture and analytics.
The companies claim that customers can reduce residential solar system measurement times by up to 50 percent and reduce commercial measurement times from days to minutes. In addition, on-board thermal imagery can help to ensure that equipment is in the optimal position for maximum production. Cont'd...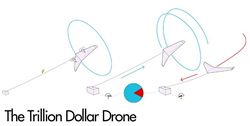 Drones will eventually be "as ubiquitous as pigeons", London-based futurist Liam Young recently predicted. They will be used for a lot of different tasks. One overlooked drone application even has the potential to become a trillion dollar business. And to save the world.
Records 1 to 2 of 2
Featured Product
Solar FlexRack TDP™ Turnkey Trackers are the next generation, single-axis solar tracker solution, complete with comprehensive services and support. What sets this tracking solution apart is its updated tracking technology bundled with a full suite of best-in-class project services and support for commercial and utility-scale solar customers. The TDP Turnkey Tracker offers the lowest total cost solution by providing the only tracker in the industry that includes full design, installation, commissioning, and support services bundled in one contract. Solar FlexRack's TDP Solar Tracker solution is supported by an in-house team of experts that includes mechanical, structural, civil, electrical and geotechnical engineers and geologists. To learn more about Solar FlexRack's TDP Turnkey Tracker, one of the most cost-effective and comprehensive tracker solutions available, please visit: http://solarflexrack.com/products/tracker.