Julia Pyper for GreenTechMedia: Amazon caused quite the stir in 2013 when it announced plans to launch a drone delivery service. People were both thrilled and horrified at the thought of flying robots delivering toilet paper to our doorsteps.
Some drone enthusiasts hoped to see Amazon launch a drone-based solar installation service -- but alas, that business doesn't exist. Yet.
Drones are already disrupting the solar sector, however.
This week at Intersolar North America, DroneDeploy, a cloud software platform provider for commercial drones, and DJI, a leading maker of drones and camera technology, announced a partnership that is expected to dramatically increase the efficiency of solar panel installation and inspection using drone-based thermal imagery capture and analytics.
The companies claim that customers can reduce residential solar system measurement times by up to 50 percent and reduce commercial measurement times from days to minutes. In addition, on-board thermal imagery can help to ensure that equipment is in the optimal position for maximum production. Cont'd...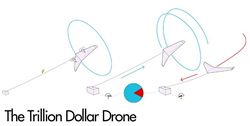 Drones will eventually be "as ubiquitous as pigeons", London-based futurist Liam Young recently predicted. They will be used for a lot of different tasks. One overlooked drone application even has the potential to become a trillion dollar business. And to save the world.
Records 1 to 2 of 2
Featured Product
Equipped with an extremely low power, smart interface the Smart SMP pyranometers offer industry standard digital and amplified analog outputs within the well-known CMP series housings. The output range is programmed so that all SMP pyranometers have identical sensitivities, allowing easy installation and exchange for recalibration. Serial communication allows access to measurement data, instrument status, operating parameters and calibration history. Building on the proven CMP Series design and technology that is used around the world, the new SMP pyranometers add digital signal processing and interfaces optimised for industrial data acquisition and control systems.