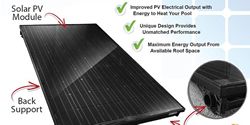 A single solar system that will collect both thermal and electrical energy utilizing the same valuable and generally scarce south-facing roof.
Solar power was particularly efficient when combined with ground heat in terms of the profitability of investments.
Records 1 to 2 of 2
Featured Product
Please join Parker's Energy Platform Solutions team at the upcoming Solar Power International show, September 10-13 at Mandalay Bay Convention Center in Las Vegas, NV. Our offering features a compact outdoor Power Conversion/Energy Storage System, complemented by an outdoor central solar inverter, both employing two-phase evaporative liquid cooling technology and modular compact designs. We will also feature axis tracker solutions with our hybrid actuator system that uses an intelligent position feedback sensor, as well as our independent wireless condition monitoring sensors for hydraulic pressure. To learn more about what we will display and launch at SPI, please click on the product sections below.