The Market Analysis Platform ("MAP") is a software package that provides insight to potential buyers and others on where wind and solar power purchase agreements are more likely to be economically attractive.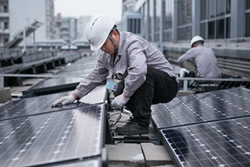 Manny Salvacion for Yibada: Singapore-based real estate investment firm Redwood Group has recently launched a 248-kilowatt (KW) pilot project in China. The company also signed a power purchase agreement with New York-based solar developer UGE International and its financing partner, Hong-Kong's Blue Sky Energy Efficiency Co. Under the Redwood deal, UGEI and Blue Sky would lease rooftop space from Redwood to operate solar panels and then sell the electricity back to Redwood, the building owner, at prices lower than grid rates. "The time is right now for solar on rooftop in China because the cost of putting a system on the roof is becoming much more attractive," said Tianyu Sieh, chief executive of Blue Sky. UGEI and Blue Sky have also partnered with real estate services firm Jones Lang LaSalle in China to offer the same model to its commercial clients. Full article:
Records 1 to 2 of 2
Featured Product
In the monitoring of large photovoltaic (Utility Scale), in assessing potential sites (Solar-assessment), or in up and coming electricity cost saving initiatives projects (Commercial & Industrial), the WS510 now provides the market a secondary standard pyranometer, ultrasonic wind speed, ultrasonic wind direction, temperature, pressure and humidity all in a single unit.. This sensor meets the high demands of the world meteorological organization (WMO) through the active valving at air temperature measurement and the inertia- and maintenance-free measurement of wind speed and wind direction on the ultrasonic principle. Equipped with a Kipp & Zonen pyranometer of the secondary standards, the WS510-UMB Compact weather sensor from Lufft unites the precision of a variety of meteorological individual sensors in a single all-in-one device, for the first time.