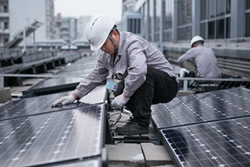 Manny Salvacion for Yibada: Singapore-based real estate investment firm Redwood Group has recently launched a 248-kilowatt (KW) pilot project in China. The company also signed a power purchase agreement with New York-based solar developer UGE International and its financing partner, Hong-Kong's Blue Sky Energy Efficiency Co.
Under the Redwood deal, UGEI and Blue Sky would lease rooftop space from Redwood to operate solar panels and then sell the electricity back to Redwood, the building owner, at prices lower than grid rates.
"The time is right now for solar on rooftop in China because the cost of putting a system on the roof is becoming much more attractive," said Tianyu Sieh, chief executive of Blue Sky.
UGEI and Blue Sky have also partnered with real estate services firm Jones Lang LaSalle in China to offer the same model to its commercial clients. Full article:
Records 1 to 1 of 1
Featured Product
The FCL model split-core current transformers have multiple benefits, including a flexible twisting motion for ease of application. Installing a split-core CT means there is no need to disconnect your primary conductor(s) which reduces downtime. Many customizations are available including extended secondary lead wire lengths, various outputs including 5A, 1A, 1VAC, and 0.333VAC, and custom rubber inserts to help center the CT and maintain accuracy. The FCL models can be used in applications up to 720VAC and have an operating frequency from 50Hz to 400Hz.