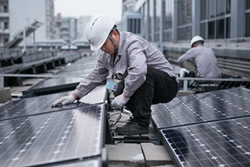 Manny Salvacion for Yibada: Singapore-based real estate investment firm Redwood Group has recently launched a 248-kilowatt (KW) pilot project in China. The company also signed a power purchase agreement with New York-based solar developer UGE International and its financing partner, Hong-Kong's Blue Sky Energy Efficiency Co.
Under the Redwood deal, UGEI and Blue Sky would lease rooftop space from Redwood to operate solar panels and then sell the electricity back to Redwood, the building owner, at prices lower than grid rates.
"The time is right now for solar on rooftop in China because the cost of putting a system on the roof is becoming much more attractive," said Tianyu Sieh, chief executive of Blue Sky.
UGEI and Blue Sky have also partnered with real estate services firm Jones Lang LaSalle in China to offer the same model to its commercial clients. Full article:
Records 1 to 1 of 1
Featured Product
Joyce/Dayton, North America's premier manufacturer of screw jacks and actuators has been in continuous operation for over 140 years. Joyce has become the trusted name in solar tracking with more than 2 gigawatts of power generation equipment in service world-wide. Consider the benefits: • Reliably position 50 tons (or more) • Long life/Low maintenance design • Motorized to meet customer specifications • Customer specified load/speed/fit • Built to ISO9001:2008 standards • Superior surface protection • Integral Trunnion mount • Easy to install. Joyce delivers more than the finished product. Quality is built into the whole process from expert engineering support during design conception to top-notch customer support after shipment. Contact Joyce for the products and support you need.