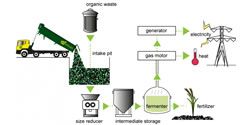 Sewage-to-energy would cut costs, and reduce greenhouse gas emissions. Industry calculations show that if all biosolids in the United States were converted into biomass energy, they would yield 7 million to 7.6 million megawatts of energy, while the existing capacity of wind power in the United States is approximately 43,000 megawatts.
So far IWS technology has been installed in multi-unit residential developments, wastewater treatment facilities, a public theatre and a university campus.
Records 1 to 2 of 2
Featured Product
The sonnenBatterie eco is a fully-integrated, all-in-one residential energy storage solution that utilizes intelligent energy management software and lithium-ion batteries to turn houses into smart energy homes. The system is available in a variety of storage capacities and configurations, allowing for extensibility and expansion and integrates with new and existing PV systems. The sonnenBatterie eco allows customers to save money every single day by storing excess energy generated by solar PV systems and using the stored energy from the battery to power homes when the utility rates are more expensive or when the grid is out of service in addition to enabling customers to go off-grid.