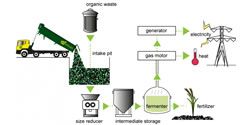 Sewage-to-energy would cut costs, and reduce greenhouse gas emissions. Industry calculations show that if all biosolids in the United States were converted into biomass energy, they would yield 7 million to 7.6 million megawatts of energy, while the existing capacity of wind power in the United States is approximately 43,000 megawatts.
So far IWS technology has been installed in multi-unit residential developments, wastewater treatment facilities, a public theatre and a university campus.
Records 1 to 2 of 2
Featured Product
Joyce/Dayton, North America's premier manufacturer of screw jacks and actuators has been in continuous operation for over 140 years. Joyce has become the trusted name in solar tracking with more than 2 gigawatts of power generation equipment in service world-wide. Consider the benefits: • Reliably position 50 tons (or more) • Long life/Low maintenance design • Motorized to meet customer specifications • Customer specified load/speed/fit • Built to ISO9001:2008 standards • Superior surface protection • Integral Trunnion mount • Easy to install. Joyce delivers more than the finished product. Quality is built into the whole process from expert engineering support during design conception to top-notch customer support after shipment. Contact Joyce for the products and support you need.