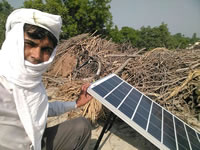 Jason Overdorf for SMITHSONIAN.COM: For a little more than a year, the family has been supplementing the sporadic electricity the village gets from the grid with solar energy, thanks to a new pay-as-you-go business model pioneered by Canadian entrepreneur Paul Needham and his company, Simpa Networks. Call it "rent-to-own solar."
Needham is a serial tech entrepreneur whose online advertising company BidClix made its way into the portfolio of Microsoft. As a doctoral student in economics at Cambridge, he was obsessed with the reasons customers will shell out for certain products and not others. One of the questions that always bugged him was, "Why don't I own solar panels?" The reason, he determined, was the high up-front costs.
Imagine if mobile phone service was sold like solar energy. From an operator's perspective, it would have made great sense to try to sell customers 10 years of phone calls in advance, so as to quickly earn back the money invested in building cell towers. But the person who suggested such a strategy would have been fired immediately, Needham says.
"You want to charge people for what they value, not the technology that's providing it," he says in a telephone interview. Cont'd...
Records 1 to 1 of 1
Featured Product
The FCL model split-core current transformers have multiple benefits, including a flexible twisting motion for ease of application. Installing a split-core CT means there is no need to disconnect your primary conductor(s) which reduces downtime. Many customizations are available including extended secondary lead wire lengths, various outputs including 5A, 1A, 1VAC, and 0.333VAC, and custom rubber inserts to help center the CT and maintain accuracy. The FCL models can be used in applications up to 720VAC and have an operating frequency from 50Hz to 400Hz.