Eskom has gone to lengths to make this installation blend with the environment. Virtually no real estate is taken up (farming can be done right underneath the units) and standing under windmills of this size not unpleasant at all ... even the cows seem to like the gentle swishing sound they make ... as witnessed by the locations of their deposits :-)
Klipheuwel Wind Turbine Project In South Africa
Bob Hetherington | EarthToys
Eskom has gone to lengths to make this installation blend with the environment. Virtually no real estate is taken up (farming can be done right underneath the units) and standing under windmills of this size not unpleasant at all ... even the cows seem to like the gentle swishing sound they make ... as witnessed by the locations of their deposits :-)
On a recent visit to South Africa I took the opportunity to visit a wind power demonstration project located north of Capetown and operated by Eskom (the power utility in South Africa). Ian Smit, Chief Engineer, Mitigation and Renewable Technology for Eskom met us at the project and gave us a great tour and some insight into the unique energy future in store for South Africa.
My first surprise was the location of the project. I expected to see the wind generators dotted on hillsides near the sea around Capetown. Many an adventure story tells tales of shipwrecks in these windy waters. Not so ... instead the 3 windmills are located in a pastoral setting in the middle of an agricultural area. Ian explained that this is because it is forseen that future installations will need to be located throughout the country and the current location is representative of that. In fact they have made great effort to keep the surroundings as natural as possible. There is even a small herd of cattle roaming the site ... adding their comments in little piles around the bases of the 3 generators.
The purpose of this project is for Eskom to test and evaluate 3 different wind generator designs under actual operating conditions. Careful consideration was given in selecting the units in order to obtain comparison costs and operating data based on design, capacity, installation and maintenance.
The site consists of 3 turbines of different mechanical and electrical design. These are:
A Jeumont 750kW Still Control Turbine, with permanent magnet Gearboxless Synchronous generator and inverter connection to the national electricity grid,

A Vesias 660kW pitch control Direct connected Asynchronous generator turbine and a,

A Vesias 1,75MW Pitch Control Asynchronous generator turbine with Rotor Conversion system ("Optispeed System")
The main differences between the units (other than capacity) is in the power regulation method, brake method and generator type. These are different so that Eskom can evaluate the combinations. Since the units are to be located in fields etc., it is important that they operate at low wind velocities.
Klipheuwel Wind Turbine Generator Data
Owner: Eskom Resources & Strategy
Purpose:

Research & Demonstration
Vestas V66
1.75 MW
Vestas V47
660 kW
Jeumont J48
750 kW
Rotor
Diameter
66 m
47 m
48 m
Blade length
32 m
23 m
24 m
Swept area
3 421 m2
1 735 m2
1 810 m2
Speed revolution
21.3 rpm
28.5 rpm
Variable
Operational interval
10.5 - 24.5 rpm
7-26 rpm
Number of blades
3
3
3
Rotor orientation
Horizontal, face wind
Horizontal, face wind
Horizontal, face wind
Power regulation
Pitch/OptiSpeed™
Pitch/OptiSlip®
Stall Aerodynamic uncoupling
Air brake
Feathered
Feathered
Tip Brake
Tower
John Thompson - Bellville
Vestas Imported
Hub height (approx)
60 m
40 m
46 m
Foundation (approx)
~ 500 ton
~ 240 ton
~ 450 ton
Operational data
Cut-in wind speed
4 m/s (14.4 km/h)
Self start
4 m/s (self start at ave wind speed of ~4.5 m/s)
3 m/s (10.8 km/h)
Nominal wind speed
16 m/s (57.6 km/h)
15 m/s (54 km/h)
13-14 m/s (47-50 km/h)
Stop wind speed
25 m/s (90 km/h)
25 m/s (90 km/h)
25 m/s (90 km/h)
Maximum 5 s gust
Class 1: 70 m/s (252 km/h)
Class 1: 70 m/s (252 km/h)
Class 2: 55 m/s (198 km/h)
Generator
Type
Asynchronous with OptiSpeed™
Asynchronous with OptiSlip®
Note:

Only 660 kW generator used, although V47 with additional 200 kW generator for lower wind speeds also available
Discoidal permanent magnet generator
with IGBT electronic converter
Nominal output
1750 kW
660 kW
750 kW
Operational data
50 Hz
50 Hz
50 Hz
690 V
690 V
690 V
Synchronous speed
n/a
1,515 - 1,650 rpm
n/a
Gearbox
Type
1 planet step
Planet/parallel axles
None
2-step parallel axle gears
Control
Type
Microprocessor - based monitoring of all turbine fuctions with the option of remote monitoring.
Microprocessor - based control of all turbine functions with the option of remote monitoring.
Microprocessor
Output regulation and optimisation via OptiSpeed™ and OptiTip® pitch regulation.
OptiSlip® output regulation and OptiTip® pitch regulation of the blades.
IGBT electronic converter
(with DC-bus)
Weight
Tower (hub height)
60 m / 100 t
Various sizes available
40 m / 32 t
Various sizes available
46 m/ 40 t
Various sizes available
Nacelle
57 t
20.4 t
~30 t
Rotor
23 t
7.2 t
~8 t
Total
180 t
60 t
~78 t
Additional info
Complete before WSSD
Approximate cost
R18 million
R8 million
R12 million
Commisioning Date
Dec-02
Aug-02
Feb-03
Supplier
Vestas
Vestas
Jeumont
Contractor / Tender
Partners International
Partners International
Intens
The wind turbines at Klipheuwel are self dispatching. This means that the turbines will try and turn in the slightest of breeze and start generating automatically once the wind is strong enough. Typical cut in speed or generating speed is around 3 - 4 m/s (15km/h).
Maintenance will be done formally at 6 monthly intervals for two days typically with breakdown maintenance as and when necessary. The latter is however not expected often.
Due to the variability in wind resource a capacity factor of around 20% is expected at Klipheuwel. This means that for every 1MW installed only 200kW will be generated on average every year.
Currently South Africa uses coal as the primary power generation fuel source. A small amount of hydro and nuclear power is also available. As the country develops and uses more electricity, coal reserves are being depleted quickly and Eskom is faced with finding new sources of power. While it's understood that Wind Energy can never replace coal or other fuels for power generation due to it's unreliable character ... it is felt that wind will add substantial power to the grid in the future and help to fill the gap as conventional sources disappear.
Eskom has gone to lengths to make this installation blend with the environment. Virtually no real estate is taken up (farming can be done right underneath the units) and standing under windmills of this size not unpleasant at all ... even the cows seem to like the gentle swishing sound they make ... as witnessed by the locations of their deposits :-)
The project is just underway with the last generator coming online in February 2003. Eskom will be evaluating the systems and in the near future we will ask Ian to bring us up to date on their findings.
The content & opinions in this article are the author's and do not necessarily represent the views of AltEnergyMag
---
Comments (0)
This post does not have any comments. Be the first to leave a comment below.
---
Post A Comment
You must be logged in before you can post a comment. Login now.
Featured Product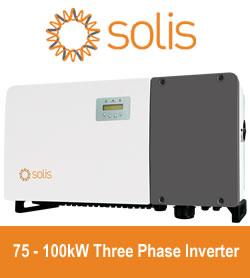 Solis75kW - 100kW series high-power string inverters are widely used in industrial and commercial rooftops. Solis's new three-phase string inverter is the first choice for industrial and commercial photovoltaics. 75-100kW three phase series string inverter have Maximum 28 strings input, support "Y" type connection in DC side. Maximum string input current 13A, support bifacial modules access.Supports anti-PID function to improve system efficiency.