Living with an 'ecological consciousness' is the way of connecting with the life-giving energy of the earth and understanding that our soul and the earth are one in the same.
Sustainability At Home
Frank Tettemer & Cheryl Keetch | Living Sol
Living with an 'ecological consciousness' is the way of connecting with the life-giving energy of the earth and understanding that our soul and the earth are one in the same.
I've always been interested in the ways that a person's home and living environment influences their feelings. We take for granted and tend to place at the back of our minds how much our home affects our mood, our attitudes, and our very wellbeing.
For example, I often ask people "What does it take to get morning sunlight into your kitchen, and on to your breakfast table?" The influence of something so simple as daylight at breakfast time, can actually make a difference in how a person begins their day. Your home can help form a vibrant, optimistic view of life. This is just one of many details that affect us in a tiny way. The accumulation of such details can add up to a much larger affect, and can be a subtle yet irresistible influence on our well-being.
The subtle affects from a 'toxic' home can be at the cause of a lot of tired, worn out feelings. It's been well documented that many glues, solvents, and plastics give off small amounts of fumes that create a toxic home environment. Sometimes it feels like we have little choice about our environment. But when we're redecorating, renovating, or building a new home, we are in a place to actually make a difference.
Designing a home is much more than just technology and engineering, and following trendy patterns. It's about building a home for your life's patterns. Your fulfillment begins with exploring your own intentions and paying attention to your deepest personal and spiritual needs. By being open to searching within, we gain the ability to truly know what our needs might be, in regard to our own home.
I know of a neighbour who has been living on a piece of real estate that is nestled into the forest, surrounded by soft green vegetation, without another person in sight. She has been living there for years, in a "temporary" trailer, with a tiny wood-frame addition built onto it. At this point, she has no intention of building anything bigger, because her life is fulfilled just as it is. Her lifestyle works, because she has a low impact on her immediate surroundings, she recycles everything, and she works hard to be balanced in her use of energy, water, and firewood. She has found what works best for her.
The new 'organic architecture' of ecological building and living practices are implicit within the consciousness necessary to create a vital life, and a sustainable future. Our very neighborhood's future relies on principles of sustainability. These principles have been described by many different people, but are worth repeating:
1). Reduce energy consumption and use renewable energy sources. (energy efficient appliances, solar and wind energy, wood for heating)
2). Conserve water and preserve its quality. (catchment systems for rainwater, greywater for gardening)
3). Choose building materials considering their ecological impact. (using local materials, and materials produced using minimal embodied energy)
4). Minimize and reuse waste. (composting, recycling, re-using)
5). Be on the land within the earth's equilibrium, i.e., protect the environment. (living respectfully with our planet)
Living with an 'ecological consciousness' is the way of connecting with the life-giving energy of the earth and understanding that our soul and the earth are one in the same. We don't require an expensive, ostentatious mansion to live in. The smallest and most humblest of homes is fine. It is our attitude towards life and towards the living earth which most importantly influences our future and our humanity.
Frank Tettemer and Cheryl Keetch are partners in the consulting, design and build business called "Living Sol".
"Living Sol" is about designing and building healthy homes and cottages using ecological and sustainable methods, materials, and technologies. We include building methods such as earth sheltering, post and beam, strawbale and passive solar heating. Our technology designs offer alternative domestic hot water systems, radiant floor heat, and wind and solar electrical applications.
Creating a healthy atmosphere and energy efficiency are our priorities, adding integrated alternative energy systems when appropriate.
The content & opinions in this article are the author's and do not necessarily represent the views of AltEnergyMag
---
Comments (0)
This post does not have any comments. Be the first to leave a comment below.
---
Post A Comment
You must be logged in before you can post a comment. Login now.
Featured Product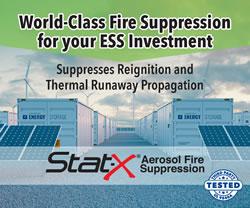 Stat-X® condensed aerosol fire suppression is a solution for energy storage systems (ESS) and battery energy storage systems (BESS) applications. Our Stat-X condensed aerosol fire extinguishing product was tested for efficacy in suppressing li-ion battery fires. It was found that the product successfully extinguished single and double cell battery fires. This testing was conducted in parallel with a large battery fire testing program on behalf of a large energy storage company.