Inverters convert the "DC" electrical power output of renewable energy technologies - such as solar, wind and fuel cells - to the high quality "AC" that our conventional power system require.
Grid Connected PV Inverters
Sustainable Energy Technologies | Sustainable Energy Technologies

Sustainable Energy Technologies

The solar energy industry is booming. Demand is so high, major PV cell manufacturers are hinting they may already be sold out for 2004. With 20-year warranties and great incentives driving markets in the United States, Japan and Europe, stellar growth is sure to continue for some time. However, all the solar panels in the world need intelligent power electronics, or "inverters" as they are commonly known, to connect to the grid.

Inverters convert the "DC" electrical power output of renewable energy technologies - such as solar, wind and fuel cells - to the high quality "AC" that our conventional power system require. They are the key enabling technology behind the emergence of distributed energy, yet have often been described as the "Achilles heel" of the renewable energy world. In the past, companies have delivered inverters that have been unreliable, failed to function, or worse yet, caught on fire during operation.

Sustainable Energy Technologies (www.SustainableEnergy.com), a TSX-Venture listed company that was founded 5 years ago to develop wind and power electronics technologies, believes its patented "pulsed step" power conversion system addresses the industry's inverter woes.

Initially the company focused on the development of a package to reduce diesel consumption in remote communities. The result was the CHINOOK 250, the first Canadian wind turbine to be certified internationally by Germanischer Lloyd.

"While we were developing the CHINOOK 250, we realized our approach to power conversion was very efficient, reliable and versatile," explained Brent Harris P.Eng, Sustainable Energy's Director of Technology and a co-founder of the company. "When we scaled it down, it turned out to be exactly what the solar and fuel cell industries were looking for."

Sustainable Energy now focuses exclusively on developing, manufacturing and marketing advanced power electronics products for emerging alternative and renewable energy markets. Their patented "pulsed step" technology is a new approach to power conversion and system design that allows a single power electronics platform to be used with a wide variety of generation and storage technologies and product applications. Commercialization of the power electronics platform was completed last year in collaboration with Germany's RWE Piller GmbH, a subsidiary of Europe's largest energy company.

Sustainable Energy's Solution
Using a patented new approach to power conversion and system design, Sustainable Energy has developed a very simple bi-directional power electronics platform that converts direct current into high quality alternating current in a single step. Central to the successful application of the technology is DSB based software that controls the output wave shape in real time, in order to meet utility power quality standards and maximize generating efficiency.
The result is a single hardware platform and configurable control software that can be used for a variety of different technologies and applications - the first truly "universal" inverter.
Sustainable has successfully demonstrated the "universality" of its electronics in the fuel cell sector. In the past 18 months it has manufactured dozens of fuel cell inverters for two of the world's leading fuel cell developers for applications in Japan, the United States and Germany .
"Our product development comes out of the fuel cell industry, which requires very complex and demanding power conversion," explained David Carten, Director of Business Development and also a company co-founder. "Due to these challenges, our resulting inverter platform can be applied across the renewable energy landscape. Naturally, since the solar market is booming and has been craving a 5kW product, it was sensible to first expand into this space. We're very pleased to announce the launch of the SUNERGY 5, our first product offering to the PV industry."
The SUNERGY 5 is a wall-mounted convection-cooled 5kW grid-connected PV inverter in a unique and stylish cast aluminum alloy enclosure. Designed from the ground up for high reliability, the inverter platform has a proven record for superior thermal performance and high power conversion efficiency.
The SUNERGY 5 also features:
10-year standard warranty - the industry's best!
Easy installation with accessible field interface and unique slide bracket wall mounting;
Remarkably low component count enabling investment where reliability counts the most;
True power level trigger with sunrise/sunset control logic which determines when to connect and disconnect through measurement of the actual power available;
Digital Signal Processor (DSP) for sophisticated control algorithms.
"Our unique approach to power conversion meets the industry's need for a very efficient, highly reliable power electronics package that can be manufactured in high volumes at very low cost for multiple product applications," continued Mr. Carten. " We believe this to be an order of magnitude step forward in inverter technology."
Sustainable Energy is a public company whose shares are traded on the Toronto Stock Exchange-Venture, under the symbol STG.
For more information, please visit: http://www.SustainableEnergy.com
The content & opinions in this article are the author's and do not necessarily represent the views of AltEnergyMag
---
Comments (0)
This post does not have any comments. Be the first to leave a comment below.
---
Post A Comment
You must be logged in before you can post a comment. Login now.
Featured Product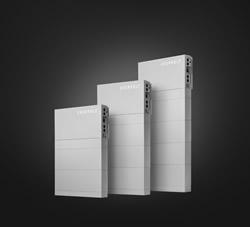 Panasonic's Total Home Energy System is built to deliver. The same battery technology we use to power the world's most advanced electric cars is now available to power your home. But it doesn't stop there. The all-in-one renewable energy system pairs Panasonic solar panels with Evervolt™ batteries to offer your customers a complete solar + storage solution, manufactured and warrantied by a company you know you can trust. In stock now.