The fuel of the future, according to many, is hydrogen. And recent announcements from California to Canada suggest the West coast will be the first to embrace this vision.
The Hydrogen Highway
Allen Gibson | RenewableEnergyStocks.com

By Allen Gibson
Reprinted with Permission from http://www.RenewableEnergyStocks.com

The price of oil surpassed forty dollars a barrel this Spring - a high not seen except for a few days prior to the first Gulf War. The experts agree that the price is likely to stay high for the next few years, and after that it may go - are you ready for this? - even higher.

Famous Texas Oilman T. Boone Pickens, speaking recently to a large crowd at the Petroleum Club in Midland, Texas, predicted that oil would never fall below $30 a barrel again.

"I think you'll see $50 a barrel before you see $30," declared Mr. Pickens.

Is the high cost of energy a surprise? Did no one see this coming?

No, and yes.

Oil industry observers have been saying for decades that oil production will peak soon, that supplies will begin to drop on a global scale and that, someday, we will just plain run out. We aren't there yet. Production, in fact, has been slowly but steadily increasing for the past two decades. But what most people seem to have missed is the surge in demand and consumption in the worlds' two most populous nations, China and India.

India and China - two nations whose over three billion population account for about half the people on the planet, have been modernizing and globalizing their economies at a truly stunning rate in the last decade. Millions more people producing millions more products, driving millions more cars, wanting - and getting - the benefits of a consumer lifestyle. The demand side of the oil equation is growing fast, while the supply side is growing slowly. Does that sound like a higher price to any of the economists out there?

To get some perspective on just how huge the impact of China has become and, barring a major depression or collapse, is going to continue to be, consider these statistics from a recent analysis by Frank Liu at http://www.investorideas.com/Companies/China-AsiaStocks/China_Opportunities.asp

"This year, China will likely surpass Japan as the world's second largest consumer of oil after the US. But the per capita use in China is just 1.7 barrels a year, compared with 30 barrels per person here, and close to 20 barrels in Japan and South Korea. China has become increasingly dependent on oil imports, which jumped 30% in 2003. Now, China imports a third of its oil, and the Energy Information Administration forecasts that by 2020, it will import 7 million barrels a day, which is over a quarter of today's OPEC production."

A quarter of OPEC production!?

To a country that less than twenty years ago was a net oil exporter?? Gives you some sense of the scale of change we're talking about.

So what has been the America's response to this looming energy price wallop?

For the 2000 model year, US fuel economy was at its lowest point in twenty years, while SUV's have become a top-selling vehicle type. The average weight of a vehicle today has reached over four thousand pounds. The last time vehicles were this big was at their peak weight in 1976, according to the EPA. And while it's true that today's vehicles use less energy per pound, that's still a lot of extra pounds! And new fuel economy legislation being proposed by the Bush administration could result in even heavier vehicles.

But wait. There's a new fuel on the horizon, and it could take us down a whole new road. Or highway.

The fuel of the future, according to many, is hydrogen. And recent announcements from California to Canada suggest the West coast will be the first to embrace this vision.

In Canada, an announcement was made as part of the preparations for the 2010 Olympics in Vancouver. The plan is to use buses powered by hydrogen fuel cells to transport athletes, media, and two million spectators to the Whistler ski resort in the mountains north of Vancouver, with filling stations along the "Sea to Sky" Highway.

Eventually, this 'Hydrogen Highway' is proposed to run all the way down the Pacific coast to California, where Governor Schwarzenegger recently formally announced the idea.

"Californians invent the future and we are about to do it again. We have an opportunity to prove to the world that a thriving environment and economy can co-exist. "said Governor Schwarzenegger.

The plan calls for an early network of hydrogen-fueling stations about every 20 miles on the State's major highways. The California Fuel Cell Partnership and others estimate that this initial fueling network will cost approximately $90 million, the majority of this investment coming from private investment.

Passenger vehicles alone consume 6 million barrels of oil a day. If a mere 10 percent of automobiles nationwide were powered by fuel cells, regulated air pollutants would be cut by one million tons a year and 60 million tons of carbon dioxide would be eliminated, according to the U.S. Department of Energy. The same number of fuel cell cars would cut oil imports by 800,000 barrels a day. That's about 13 percent of total imports.

Canadian Prime Minister Paul Martin says the push to commercialize environmental technologies is similar to the "space race" of the 1960s and Canada wants to be a world leader in this area. The country already supplies parts for 82 per cent of fuel cell products worldwide.

The Canadian government is putting some money where its mouth is. Later this year, when it sells its remaining stake in oil company PetroCanada, one billion dollars of the proceeds will go towards new environmental technologies.

Noted Canadian environmentalist David Suzuki, however, had this response:

"But there is a catch, one that the commercials and news reports often overlook. Hydrogen doesn't come out of a hole in the ground. In fact, it doesn't exist by itself in nature at all; people have to extract it from other materials, such as water, or fossil fuels like natural gas, methanol, or gasoline. That process requires lots of energy, and how people generate that energy is the crux of the issue."

In fact it is oil and car companies who are most of the big money players in the hydrogen fuel cell car initiatives. Chevron, Texaco, DuPont and Ford are among the major corporations already backing Fuel Cells. Shell is one of the partners in Chrysalix, a clearinghouse for fuel cell development. Oil companies see a new market for their products, while car companies are generating tons of positive PR and media exposure with each new announcement.

Suzuki notes, "To be pollution-free, hydrogen must be made using renewable energy, such as solar or wind. Otherwise, we will simply shift the pollution source from our vehicle tailpipes to smokestacks at hydrogen-production plants."

Since 2000, hybrid sales in the United States have grown at an average annual rate of 88.6 percent, with California leading the charge. Hybrid sales are expected to climb to 107,000 in 2004 and double again in 2005. The reason? A flurry of new hybrid models, including pickup trucks and sport utility vehicles will be available. And with mileage figures for such vehicles of up to 68 miles per gallon, versus the 12 city miles per gallon for the Lincoln Navigator, the appeal of fuel-cell and electric-gas hybrid vehicles can only increase as the price of oil remains at historic highs.

Allen R. Gibson has over twenty-five years of experience in media and Corporate communications. He has been a reporter, television producer, and Marketing communications consultant for public companies in both the US and Canada.
The content & opinions in this article are the author's and do not necessarily represent the views of AltEnergyMag
---
Comments (0)
This post does not have any comments. Be the first to leave a comment below.
---
Post A Comment
You must be logged in before you can post a comment. Login now.
Featured Product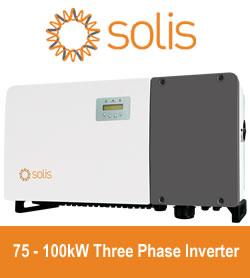 Solis75kW - 100kW series high-power string inverters are widely used in industrial and commercial rooftops. Solis's new three-phase string inverter is the first choice for industrial and commercial photovoltaics. 75-100kW three phase series string inverter have Maximum 28 strings input, support "Y" type connection in DC side. Maximum string input current 13A, support bifacial modules access.Supports anti-PID function to improve system efficiency.