Santa Clara University's vision was to build a green technologies test center that can evolve with new technologies and be a place of discovery, learning, systems testing, and student community.
Green Building Education, In a Green Classroom at Santa Clara University
Amber Welsh | Timmons Design Engineers
Santa Clara University's vision was to build a green technologies test center that can evolve with new technologies and be a place of discovery, learning, systems testing, and student community.
by Amber Welsh
Timmons Design Engineers
---
Kennedy Mall at Santa Clara University will be a green technologies learning center demonstrating sustainable technologies and serving as a community hub for the campus.

Photo courtesy of KMD Architects
The existing 70,000 square foot site encompasses a concrete common area in the center of four dormitories and one block of a campus roadway. The new Kennedy Mall will be a 7,500 square foot dynamic learning center offering classroom, lobby, and community space for the University. The remaining site area will be restored to green space and the roadway demolished and reinvented as a pedestrian walkway. The constraints of the project consist of a tight budget, ten month design and construction schedule, and designing a landmark sustainable building that fits in with the campus standard of California mission style.
For building owners with large campuses, building operational costs far outweigh the impact of initial construction cost. Santa Clara University has recognized the need to improve building life cycle and how sustainability can help reach this goal. Kennedy Mall is a testing bed of new technologies that will provide the University with quantitative data on the benefits and cost savings of green features and design, while providing students with inviting environments and let them take lessons of sustainability with them in the future. The results of the building systems will be measured and quantified enabling the University to systematically integrate green building strategies into the campus master plan.
Santa Clara University's vision was to build a green technologies test center that can evolve with new technologies and be a place of discovery, learning, systems testing, and student community. The major goals for the University are to improve green spaces, campus community, indoor environmental air quality, building life, energy efficiency, and spread the ideals of sustainability to its students. The USGBC's LEED-NC rating system was used as a guide and starting point to investigate building systems and components. The design for the Demonstrations Commons Building was a collaborative process with interactive design charettes involving the design team, contractor, and University faculty and students. The early design charettes set the sustainable priorities for the test facility to improve indoor air quality by eliminating materials with volatile organic compounds, evaluate natural building materials, such as straw bale walls, improve storm water runoff with green roofs and green spaces, provide connection to environment and reduce energy usage with natural daylighting and natural ventilation, and improve efficiency and effectiveness of HVAC systems by utilizing radiant heating and cooling, displacement ventilation via raised floor, and a ground water cooling system. The building components and systems to be utilized will also be integrated into learning kiosks in the building allowing the end user to touch and feel what each system design delivers to enhance the space.
The final building design maximizes day lighting and blends the interior and exterior spaces, while green roofs and straw bale walls are used as functional displays of sustainability.

Photo courtesy of KMD Architects
The design team collaborated to maximize the effectiveness of natural ventilation and daylighting in all building spaces. The HVAC passive and active systems to be demonstrated and tested in the building include a thermal convective tower to promote natural ventilation, radiant heated floors for community gathering spaces, conferencing spaces, and foyer, under floor displacement ventilation for classrooms, and ground water cooling to be connected after occupancy. Photoelectric daylighting sensors will be used to control the use of artificial lighting. DDC controls are tied into all of the building systems to provide usage data that will be evaluated by the University and displayed to users through learning kiosks.
The mechanical system design began by first analyzing the natural ventilation potential for the building spaces, considering the site, privacy issues, security, and noise breakout between spaces. The Demonstration Commons Building is a prime candidate for natural ventilation due to favorable climate, shape of buildings, and large number of operable windows and doors. The Classroom and Commons spaces have operable windows on both north and south faces and operable windows within the clerestory facilitating natural ventilation and air change effectiveness. Good cross ventilation through the spaces can raise the comfort temperature sensed by humans allowing natural ventilation to maintain indoor comfort on mild days and eliminating the need for cooling and air handling equipment. The natural ventilation system will shut down the mechanical air systems automatically when windows are open.
The Corridor spaces and Foyer have also been designed to be naturally ventilated with a thermal tower to assist in purging hot air and induce air movement via pressure differential within the space.

Photo courtesy of MPM Inc.
Two of the tower walls will be constructed of clear, single-pane glass allowing direct sunlight to hit a dark colored concrete wall heating the thermal mass and increasing the stack effect. Automated fresh air intake louvers located in the hallway and foyer spaces allow the introduction of outside air into the spaces based on outside air temperature and space carbon dioxide readings. During the cooling season, the thermal tower will be used to purge the space at night and cool thermal mass of the building. Belt-driven ceiling fans will be located within the classroom corridor to aid in air circulation. Radiant floors serve as a passive space conditioning system providing quiet, draft-free conditioning. Radiant systems also consume 20-30% less energy than forced air systems because water is approximately four times more efficient as a heat transfer medium than air, and fan energy is no longer required. For the Demonstrations Commons Building radiant floors will be used for both heating and cooling of the Commons Room, Den, Foyer, and Corridor spaces. Radiant cooling is an efficient tool for the dry California climate and allows the University to test a leading edge HVAC system. Each radiant zone will have a thermostat and humidity sensor and the chilled water temperature entering the radiant floor will be controlled to prevent condensation. Ventilation air will be provided by air-handling unit or natural ventilation depending on outside air temperatures.
The classroom spaces will be conditioned by a displacement ventilation system through a raised floor plenum. Displacement ventilation systems will provide 65F cooling air and 85F heating air at low velocities. Raised floor systems gently diffuse air through the floor and effectively cool the occupied zone of the room and do not control temperature above head level. Raised floor systems are gaining in popularity due to energy savings and improved indoor air quality. One way that displacement ventilation systems reduce energy consumption is by supplying 65˚F cooling air, which allows longer operation in economizer mode; providing free cooling.
The air-handling units serving the building have been located above restroom and storage room ceilings to minimize both visual and acoustical impacts to the building. The exhaust and fresh air louvers are to be located on exterior walls and to be hidden below roof eaves. As a means of energy conservation, air-handling units will be equipped with variable frequency drive and a dry bulb economizer. In spaces with high occupant density requirements, energy is wasted conditioning an overabundance of fresh air when the space is not fully occupied. Demand control ventilation will save energy while monitoring indoor air quality. Demand control ventilation will also be provided in high occupancy spaces with intermittent use patterns. Carbon dioxide sensors will be used to monitor CO2 concentration and control the air handling unit fresh air intake to directly respond to the actual ventilation load.
The University will conduct a study analyzing building system performance and the results will be compared to conventional classroom buildings on campus. The DDC controls will measure energy use of individual building systems and zones, so that each building system and their collaborative operation in individual spaces will be understood. The mechanical system efficiency, such as radiant heating floors and under floor displacement will be measured and energy consumption benchmarked. The study will also focus on natural ventilation effectiveness in the classrooms, offices, lounge, and conferencing spaces. The time the spaces are naturally ventilated will be compared to mechanical equipment hours of operation to document effectiveness. Long-term goals for the building will be to compare annual maintenance costs and productivity of the building.
Biography
Timmons Design Engineers (TDE) is a Mechanical, Electrical, Plumbing, and Sustainable Design consulting firm based in San Francisco, CA. TDE was founded in 1994 by Sean Timmons and has developed a reputation for creating innovative and cutting edge design solutions. With a design philosophy of passive before active, TDE works with clients from concept to reduce a project's environmental footprint and improve MEP systems functionality. TDE's experience spans commercial, educational, retail, and residential. For more information please visit, www.timmonsdesigneng.com or call 415.957.8788.
The content & opinions in this article are the author's and do not necessarily represent the views of AltEnergyMag
---
Comments (0)
This post does not have any comments. Be the first to leave a comment below.
---
Post A Comment
You must be logged in before you can post a comment. Login now.
Featured Product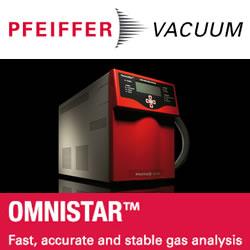 The Pfeiffer Vacuum OmniStar benchtop analysis system offers you a compact footprint, powerful software and Ethernet connectivity. It's the optimum solution for many real-time gas analysis applications. With the OmniStar, Pfeiffer Vacuum offers you a complete solution for gas analysis, in chemical processes, semiconductor industry, metallurgy, fermentation, catalysis, laser technology and environmental analysis. The turnkey OmniStar gas analysis system consists of heated, temperature-regulated gas inlet system, Quadrupole mass spectrometer, a dry diaphragm vacuum pump and HiPace turbopump. Unlike competing methods such as FTIR, OmniStar is suitable for qualitative and quantitative analysis of most gases.