Imagine your cell phone lasting for 30 days without recharging, or your laptop running continuously for nine hours or more. Wouldn't it be great if it only took seconds to recharge your PDA?
Fuel Cells Drive Other Applications Besides Cars
Jennifer Gangi | Fuel Cells 2000
Imagine your cell phone lasting for 30 days without recharging, or your laptop running continuously for nine hours or more. Wouldn't it be great if it only took seconds to recharge your PDA?
By Jennifer Gangi, www.fuelcells.org
---
Fuel cells and hydrogen have gotten a lot of press lately with rising gas prices and concerns about dependence on foreign oil. Most of the media attention has been focused on fuel cell vehicles which are not expected to be commercialized until at least 2010, and the other applications that fuel cells can be incorporated in are being overshadowed. Fuel cells are being researched, demonstrated and installed around the world in various other applications - from portable power for cell phones, laptops and cellular telecommunications towers, to larger megawatt fuel cell power plants that can keep an entire community running seamlessly. And there are many sizes in between, for almost any power need, offering a combination of benefits unmatched in any other power generation technology.
No other energy generation technology offers the combination of benefits that fuel cells do. In addition to low or zero emissions, benefits include high efficiency and reliability, multi-fuel capability, siting flexibility, durability, and ease of maintenance. Fuel cells are also scalable and can be stacked until the desired power output is reached. Since fuel cells operate silently, they reduce noise pollution as well as air pollution and the waste heat from a fuel cell can be used to provide hot water or space heating for a home or office.
Power Generation
Fuel cells are ideal for power generation, either connected to the electric grid to provide primary power, supplemental power or backup assurance for critical demand, or installed as a grid-independent generator for on-site power in areas that are inaccessible by power lines. More than 2,500 fuel cell power generation systems have been installed all over the world - powering homes, telecommunications towers, hospitals, and commercial and industrial buildings. In demonstration projects, fuel cells have been shown to reduce facility energy service costs by 20% to 40% over conventional energy service, and deliver electrical conversion efficiencies in the range of 40 to 60%.
The efficiency increases tremendously (approaching 80 to 90%) when fuel cells are used in cogeneration applications, where both electricity and the heat of the reaction are utilized (for space heating or hot water). Fuel cells currently operate at landfills and wastewater treatment plants across the country, proving themselves as a valid technology for reducing emissions and generating power from the methane gas they produce.
Fuel cells have no moving parts, so service requirements are minimal, equipment lifetime is long, and operation and maintenance costs are lower than with standard lead acid battery or diesel generator back-up power. Not only are fuel cells quiet, reliable, non-polluting and efficient over a wide temperature range, they have the ability to produce several days of back up power before refueling.
Portable Power
Imagine your cell phone lasting for 30 days without recharging, or your laptop running continuously for nine hours or more. Wouldn't it be great if it only took seconds to recharge your PDA? With fuel cells, all this is possible. Miniature or micro fuel cells are powering cell phones, laptop computers, pagers, video recorders, portable power tools, video cameras, and low power remote devices such as hearing aids, smoke detectors, burglar alarms, metal detectors, hotel locks and meter readers. These miniature fuel cells usually run on methanol, an inexpensive alcohol typically made from natural gas and used in windshield wiper fluid; developers are exploring a variety of other fuels. With miniature fuel cells, you won't have to wait for recharging - simply replace the fuel cartridge and off you go.
Military Applications
Fuel cells help the military reduce the cost of battlefield logistics, provide a source of energy for the modern soldier, save money and reduce pollution at military installations and on board ships and terrestrial vehicles. Most importantly, fuel cells can save lives and material by reducing telltale heat and noise.
A Defense Science Board report entitled More Capable Warfighting Through Reduced Fuel Burden concluded, "over 70 percent of the tonnage required to position today's US Army into battle is fuel." The report also found that significant war-fighting, logistics and cost benefits occur when weapons systems are made more fuel-efficient. Many companies are working with the Armed Forces on miniature fuel cells for portable military applications since soldiers are starting to carry a range of enabling electronic technologies, computers, personal radios, displays and thermal imaging, all intended to increase his effectiveness, lethality and survivability. Right now, these devices are limited by their power source. Miniature fuel cells can operate 10 times longer than conventional batteries used to power hand-held battlefield computers, and are much more cost-effective.
Stationary fuel cells are helping the military to address their peak electric power needs while complying with the presidential directive to reduce energy use at Federal facilities by 20%. Stationary fuel cells for military applications can provide back up or standby power for special operations and activities and can provide power in remote areas. The Department of Defense has installed more than a hundred fuel cells across the United States.
Installing fuel cells in such a wide array of applications is helping prove to the world that the technology is rugged, durable and reliable. Most importantly, it shows the general public that although fuel cell vehicles are several years away from commercialization, fuel cells are a viable and attainable solution to the world's energy problems.
Jennifer Gangi is program director of Fuel Cells 2000, a non-profit, education and outreach program that promotes fuel cells and hydrogen technologies. www.fuelcells.org
The content & opinions in this article are the author's and do not necessarily represent the views of AltEnergyMag
---
Comments (0)
This post does not have any comments. Be the first to leave a comment below.
---
Post A Comment
You must be logged in before you can post a comment. Login now.
Featured Product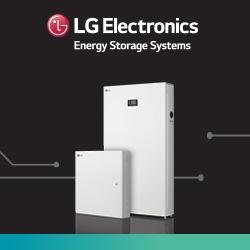 The NeON R module features "Back Contact" cell technology delivering an entirely black panel that is aesthetically pleasing and energy efficient. The cell's seamless, surface blends perfectly into nearly all rooftop designs while the module's electrodes are positioned on the rear of the cell. Using LG's N-type cell structure, the panels produce 365W of energy, up to 7.3kWp, compared to 5.8kWp of the p-type cell. The module's new design minimizes LID, thereby delivering a longer lifespan and increased energy output.