The gas-free Tesla Roadster boasts a top speed of more than 130 mph and a range of 250 miles per single charge. Its extended range is due to the state- of-the-art lithium-ion Energy Storage System (ESS). Rocket Ride to the Future
Tesla Roadster - Electric Supercar
David Cutter | Village Energy
The gas-free Tesla Roadster boasts a top speed of more than 130 mph and a range of 250 miles per single charge. Its extended range is due to the state- of-the-art lithium-ion Energy Storage System (ESS).
TESLA ROADSTER - ELECTRIC SUPERCAR
Rocket Ride to the Future
courtesy of David Cutter, Village Energy
---
Fantasy supercars like Ferrari Enzo, Bugatti Veyron and Lamborghini Diablo are each high performance sports cars (with high price tags to match), but wait! -- There's a brand new arrival for the well-heeled driving enthusiast to consider; but it ain't nuthin' like the others! --The much anticipated Tesla Motors Roadster is 'an electric rocketship' full of exciting cutting-edge technological innovation, which even California's Governator, Arnold Schwarzenegger, had this to say following his first test ride in the Tesla Supercar: "AWESOME! I'll be back!"
Santa Monica Airport might seem like an unlikely venue to host the debut of a brand new electric roadster, but when a car can accelerate from zero to 60 in 4.2 seconds, an airplane runway is perfect for demonstrating the breath-snatching torque and remarkable acceleration of what I want to call, the 'rocket-ride' of the future - The Tesla Motors two-seater Roadster. The unveiling of the first of three planned lithium battery-powered Teslacars took place on July19,2006, and Village Energy was there to file this report:
How It Works
The gas-free Tesla Roadster boasts a top speed of more than 130 mph and a range of 250 miles per single charge. Its extended range is due to the state- of-the-art lithium-ion Energy Storage System (ESS). The zero-emission car is capable of rapidly accelerating from 0-60 mph in about four seconds. The powertrain consists of four main parts: the battery pack (consisting of 6,831 lithium- ion cells); a network of microprocessors for maintaining charge balance and temperature among the batteries; a cooling system; and an independent safety system designed to disconnect power outside the enclosure under a variety of detectable safety situations. Each component includes patented innovations, both small and great, synergistically giving extraordinary performance levels some are beginning to call "the rocket science of our time."
Read on...
Charged Up for Action
The Tesla Roadster comes complete with its own Electric Vehicle Service Equipment (EVSE), a home-based charging system, and a a mobile charging kit for re-charging while away from the EVSE, (includes an automatic disconnect system). Charging the Tesla Roadster takes about 3.5 hours, whether you're on or off the grid. A world-first option puts buyers directly in touch with approved renewable energy experts who can offer solar panel installation for the customer's home and car, which by the way, could mean 'free energy' coming direct from the Sun. Brilliant!
Revolutionary design, inspired state-of-the-art hi- tech, wildly willing wealthy patrons lining up to buy now, drive later .. no wonder they're calling the Tesla Roadster "The 21st Century Electric Car!"
Read Tesla Motors White Paper (PDF file) ...
Burn Rubber, Not Gas, Baby!
The Tesla Roadster is unlike anything we have seen so far. With two additional less expensive models promised (after 2007), I predict great things for Richard Eberhard and Co. We came away thinking we had witnessed history in the making. Tesla Motors says they have taken a good number of advance orders for the $80K electric supercar that wowed the adoring crowds in Los Angeles last night. Significantly, all the excitement is coming a mere few days after Nikola Tesla's 150th birthday celebrations! After the energizing presentation and performance we witnessed, I expect there will be others who will want to sign up, as well.
Perhaps Tesla really was the father of free energy?
Tesla Roadster is expected to be ready to ship to customers in late spring/early summer of 2007. The most convenient way to purchase a Tesla Roadster will be from Tesla Motors Web site beginning in early 2007.
The Future is Electric!
The content & opinions in this article are the author's and do not necessarily represent the views of AltEnergyMag
---
Comments (0)
This post does not have any comments. Be the first to leave a comment below.
---
Post A Comment
You must be logged in before you can post a comment. Login now.
Featured Product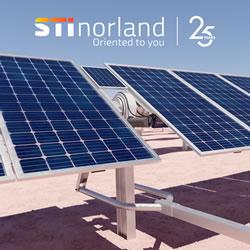 Developed in 2017, the STI-H250™ is consists of two linked torsion beams that rotate simultaneously following the sun's path. They are moved by just one motor, cutting supply and maintenance costs. STI-H250™ dual-row tracker includes backtracking mode to avoid shadowing between adjacent rows and stow function to protect the tracker in extreme wind conditions. For cleaning, vehicles can pass between trackers and each row can be placed in a different position.