DTE Energy have held Alt energy conferences for some 16 years now and 6 years ago teamed up with the Engineering Society of Detroit to produce the Alternative energy conference for the State. They are currently involved in some large installations of solar powered arrays for factories at the moment.
DTE/ESD Energy Conference and Exhibition
Bill Dickens
In Detroit the utility company is known as DTE Energy. They are nationwide, headquartered in Cincinnati. They provide Electric Power, Natural Gas, Coal and Coke to their customers and have been in the forefront on Alternative Energy source work. They have held Alt energy conferences for some 16 years now and 6 years ago teamed up with the Engineering Society of Detroit to produce the Alternative energy conference for the State. They are currently involved in some large installations of solar powered arrays for factories at the moment.
The Engineering Society of Detroit is a very large professional Society which includes a wide range of people from Engineers to Architects and typically Auto Related Suppliers. It may be one of the largest private Professional Engineering Societies in the world and they have done a lot for the City and the Profession in many ways over the years. They truly are an august group with lots of expertise and intelligence. Their imprimatur is huge and I doubt if any City has such a large and prominent group of Technically educated people.
This year the one day Conference had many attendees and the display seemed slightly smaller than last year. There were no wind engines in evidence this year save for a photograph on the backdrop of one exhibitor. There were two Volts, yes one beautiful black one, an almost candyapple red one and a Cruze, and one Fiesta and one Focus also on the floor. The Cruze was highway rated at 41mpg, the same as the Fiesta, but considerably larger and more spacious and looking like a very handsome midsized sedan... that means that it will seat 4 comfortably like a traditional Japanese or German car. It is a long awaited direct response to the Japanese and European and Korean offerings and it is quite fetching. Clearly, it is not designed to compete with a 1987 Honda.
The rest of the displays were the usual thing... Led lighting fixtures for all sorts of applications, some solar panel displays and HVAC and electrical equipment apparatuses of various sorts along with Law Firms involved with various aspects of environmental law and the large display of various DTE offerings of service. Carlisle had a display of their skylights which they vacuum form and fuse together to provide a permanent seal which can never be had with an aluminum frame since the differential coefficients of expansion and thermal conductivity soon wreck havoc on traditional aluminum framed desigms. Carlisle is the single ply rubber roof membrane manufacturer who also supplies rubber membranes for foundations located where there is abundant ground water. The discovery that the currently fashionable big box stores with no natural light had extremely expensive operating costs, due to the lighting loads, were not only more cost effective if they included skylights. Sales rates and comfort were much higher with the natural lighting.
There was a grand luncheon with Squab for about 500 people and DTE gave out its awards to people and institutions helping in the cutting of energy expenditures. And since our new Governor is all about being "One Tough Geek" (Coined by my neighbor) who has already killed the movie industry incentives I think that it will be unlikely that we will see much in the way of wind incentives. His spokesperson, the Head of the Michigan Economic Growth Council eloquently spoke and indicated that they would be securing funding for small business expansion. The new buzz word for this is "Economic Gardening" which the Republicans embrace. He even mentioned a million bucks for another neighbor who runs a hip bakery in Midtown that has a large following. But they will work mostly with proven entrepreneurship rather than start-ups.
There were 3 tracks on the Seminars... Funding Initiatives, Technology, and Governmental and regulatory efforts called Energy Education.
Here is the ESD link to the presentations at the seminars:
http://ww2.esd.org/EVENTS/EnergyConf-Presentations.htm



I attended mostly Technology seminars which Included:


Emerging Technology That Reduces Energy Consumption

and Increases Energy Efficiency
Dave Hyland, Manager Business Development, Schneider Electric
—DOWNLOAD PDF

This was largely about more elaborate controls being offered and the fact that you can now operate your controls from smartphones. If you go away on vacation you can turn off your HVAC and monitor the temperatures whenever you wish and before you return you can bring the temperature back to a livable range.
Daylighting Adaptive use of Natural Resources
Ken Laremore, Carlisle Syntec
—DOWNLOAD PDF

This was largely about Carlisle coming up with superior skylights since real daylight saves energy costs and greatly enhances the livability of flat roofed Big Box buildings. They had to do this because they have a huge investment in flat roof construction.
An Introduction to High Performance Green Buildings (HPGB)
Daniel H. Jacobs, AIA, LEED AP BD+C, Senior Principal / Director of Sustainable Design, A3C–Collaborative Architecture
—DOWNLOAD PDF

Dan here may well be the most knowledgeable Architect in Michigan about LEED compliance along with all the new standards emerging in the industry.
We might feature Dan in the future to get brought up to speed on all of the emergent standards. He pointed out that the future might be seeing buildings which are net positive in feeding energy to the grid.



The New ASTM Building Energy Performance Assessment (BEPA)—DOWNLOAD PDF
Scott Adamowski, PE, Vice President, Conestoga-Rovers & Associates
Chris Meincke, PE, LEED AP, Project Manager, Conestoga-Rovers & Associates
Mark Bennett, Senior Counsel, Climate Law Practice Leader, Miller Canfield

This was about the new ASTM standards being developed to place a single operating cost number on buildings. This is extremely important in commercial real estate transactions. This could become even more important than some of the existing standards in that it is examining what is in place rather than what is being designed. It is based upon actual costs and their distribution within the systems of the building.
The content & opinions in this article are the author's and do not necessarily represent the views of AltEnergyMag
---
Comments (0)
This post does not have any comments. Be the first to leave a comment below.
---
Post A Comment
You must be logged in before you can post a comment. Login now.
Featured Product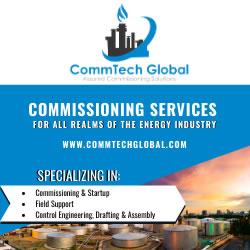 CommTech Global Solutions, LLC, provides professional and reliable commissioning services to customers in all realms of the energy industry. We blend our skills in engineering and technology with innovative business models, offering a complete range of services to assist you for a successful and in compliance operational startup. Consolidation of all our service domains gives our clients a comprehensive set of expertise and far-reaching experience on each project.