On May 4th, the 115 year old Engineering Society of Detroit held its 18th Annual Michigan Energy Conference and Exhibition subtitled "Save Money Now: Strategies for Energy Efficiency."
Engineering Society of Detroit Energy Conference
Bill Dickens

The conference was hosted by DTE Energy and the ESD. DTE Energy is the Detroit Area provider of Electrical Energy and Natural Gas Utilities and is a huge provider of Electricity, Gas and Coal Services into the supply chain of Energy. It has been a socially Responsible Company funding many initiatives in the Region and State. It also built and owns the Fermi Nuclear Reactor and has holdings and operations in 26 States.

This year there were over 100 exhibitors and there were morning seminars on 4 tracks of interest. The luncheon Keynote speaker was Ben Maybach, III, FESD a CE who is Chairman & CEO of Barton Mallow Company a large CM in the Detroit area. There was an Afternoon Executive Session on Energy Law and Regulations. The floor had many DTE executives at the Conference and a he display of their programs.
You can see the list of Exhibitors
here.

General Motors was a huge exhibitor of many vehicles that were powered by various fuels from Battery Power, to Hybrids, even including a GAS/Natural Gas Hybrid pickup truck. Since Natural Gas is comparatively very inexpensive it offers a low cost alternative. Apparently the range of the vehicle is dependent upon the Pressure induced into the NG Storage chamber. It is said to run smoothly and quietly but and the switch to gasoline is easy. Of course the main problem is distribution since there are few locations selling NG. It is now apparent that there are more and more hybrid alternatives.

A large number of lighting manufacturers and their Reps were in evidence with lots of LED displays.
This year there was virtually no discussion no exhibitor of Wind Power Energy despite the fact that DTE Energy has a number of wind farms now and is a supporter of NextEnergy a local venture focused upon new energy solutions. It was there that VP Joe Biden announced last Summer that the Federal Government was placing a Billion Dollar investment in new energy solutions, primarily Battery Power.

So Michigan now leads the US in solar panel production and will soon lead in battery development and manufacture.
Clicking upon the various "Find out more" (
PDF
) links you can see the conference in great detail. Clicking on the one for Track Sessions you can see the various lectures.

Ones that were of interest to me were Energy Efficiency by Rob Stork, from Myron Zucker, Inc. who discussed power factor corrections and their impact on greenhouse gas emissions and reductions in energy usage.

Another was How LEED Existing Buildings, Operations and Maintenance ( LEED – EBOM) Improves Energy Efficiency, by an architect, Daniel Jacobs, LEED AP, of AC3 in Ann Arbor. This was about High Performance Green Buildings (HPGB) and trends in the green building industry, "high performance" and how you can save energy in your building and translating that to cost benefits. Apparently EBOM will be changing to GBOM shortly. This presentation made it perfectly clear that there were many new regulations in place and that in order to secure Governmental Funded work LEEDS must be applied.

David V. Tsu, PhD, and President of Ming Scientific, LLC gave an interesting presentation about the various levels of LEED Certification from a governmental study that suggested that the higher the certification the less results were achieved. Of course this was a bit controversial. But David pointed out the effect of humans living in buildings who pay no attention to proper practices. He showed a thermagram of a factory with an open loading dock door and the blue traces on the ground beneath the door indicating that the factory was cooling the earth. Factories and homes must inculcate the residents into adopting green practices or all the other efforts are lost.
After the keynote speech touting Barton Mallow and Green Practices awards were given to various presenters.

The Executive Strategy Session concentrated on the Laws now in place which must be adhered to in applying for various permits and certifications. It is no longer a simple issue.

There was light discussion about wind power efficiencies and Bill Allemon, CEM CEA, LEED AP, Manager, Energy Efficiency of Ford Land was in complete agreement that testing for fan efficiencies must be done.
The power points of each presenter should now be available at the ESD site for downloading.
The content & opinions in this article are the author's and do not necessarily represent the views of AltEnergyMag
---
Comments (0)
This post does not have any comments. Be the first to leave a comment below.
---
Post A Comment
You must be logged in before you can post a comment. Login now.
Featured Product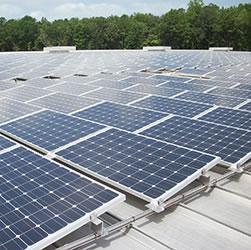 The Power Rail™ Commercial Mounting System is designed with the professional PV solar installer in mind. Both the XD/UD and LD/MD rails feature single tool assembly with the revolutionary patented RAD™ Lock-in-Place bolt for fast and secure module clamping. The high strength marine-grade aluminum rails include an integral wiring channel for securing cables and providing a professional finish.