John McNab, assistant product manager at the Seaward Group, looks at what's involved in the protection of wind turbine electronics and electrical systems from lightning strikes and the latest in digital microhmmeter earth bonding measurement and related safety testing.
Testing times for wind turbines
John McNab | Seaward Group

During the last few years we have seen a proliferation in the number of wind farms coming online as successive governments press ahead with their green agendas to produce more and more of the UK's power needs from renewable energy sources.

However, the increasing number and height (upwards of 60m) of turbine installations have made them more and more vulnerable to lightning strikes, which has resulted in an incidence of damage greater than anticipated, with repair costs escalating to the point where it's almost economically unsustainable.

So, it's become important for those responsible for turbine design, build and maintenance programmes to incorporate control wiring systems capable of withstanding the most severe of lightning strikes – one which could potentially contain one billion volts and between 10,000 to 200,000 amperes of current (the average flash can power a 100 watt light bulb for three months).

And when it comes to protection, any approach must fulfil two tasks: the provision of a low impedance path for lightning current to flow to the ground and the protection of electronics and electrical equipment from damage induced voltage effects and transferred potentials.

The hazard to equipment tends to arise from two sources. The large magnetic fields produced by a lightning strike may result in large magnitudes of induced voltages in wiring. A rise in earth potential also results in the possibility of high potentials present at one wind turbine causing damage to the electronics/electrical systems within the turbine itself and at remote turbines.

Induced voltage effects can be avoided by sensible routing of wiring, the use of bonding wires and the provision of cable trays that are bonded to the wind turbine at both ends. The use of cable trays in particular may result in induced voltage levels being reduced by a factor of 10.

Although transient suppression devices can be used for protection of components from large transferred potentials it is important to ensure that such devices are located close to good earthing points (these are generally readily available on a wind turbine).

Earthing matters

Wind farms are commonly situated in areas with high soil resistivities so earthing systems are geographically distributed over a large area. A total of 5 km of earth electrode or more is not uncommon on such a site. Unlike compact earthing systems conventionally used for lightning protection purposes the earthing system of a wind farm has a high inductive reactance which needs to be included when assessing the performance of the earthing system during a lightning strike.

Another important factor relating to earthing and human safety is the provision of equipotential bonding within a wind turbine to ensure that no hazardous touch voltages will occur during a lightning strike.

The lightning protection system of a wind turbine must be designed to carry lightning current to earth and protect the turbine from damage. While the overall protection of key assets like blades is important, protection of other smaller, cheaper components is nevertheless important – electronic control systems for example must be protected from damage through induced voltage and large transferred potentials. The failure of the control system is one of the biggest contributors to wind turbines being off-line or not functioning properly.

As wind turbines get higher and higher so will the frequency of lightning strikes, so it's not only important that the protection system used are continually improved but also properly tested and maintained, including earth bonding measurement and related safety testing applications.

The latest generation of digital microhmmeter, like the Cropico DO7010 from Seaward, ensures accurate and reliable low resistance measurement, by combining user-friendly operating features with an exceptionally rugged and compact design.

With a measuring range of 600µΩ to 60Ω with 0.1 and 10mΩ resolution respectively, this lightweight instrument can measure with switchable current levels of 1A or 10A on all except the highest range. Externally recharged NiMh battery packs can be replaced quickly via the front panel to ensure minimum downtime anywhere.

Of specific relevance to wind turbines, the DO7010 can be used with 90m long test leads without any adverse effect on the accuracy of measurement taken.

As a result, test and inspection engineers can test the safety bonding of wind turbines from top to bottom with one instrument. In addition, a test current capability of up to 10A allows for bonding checks to be made through any surface corrosion that can develop in outdoor locations.

Also, wind turbines often incorporate an embedded Faraday cage or shield built into the tower structure - an enclosure formed by conducting material or by a mesh of such material. These provide protection against a lightning strike for service crew undertaking maintenance and repairs or to prevent damage to mechanical, electrical and electronic equipment - the DO7010 can be used to check the cage is functioning correctly and afford the requisite level of protection.

An LCD panel displays full information on measurement configuration and a single start button ensures ease of use while the ability to trigger measurements by lead contact to the test device gives fast single-person operation. A remote hand terminal is also available to fully control the tester at up to 15m distance.

Other features include true four-terminal measurement to eliminate lead resistance errors, auto average of forward/reverse measurement and sequence testing with memory for 1000 readings.

The instrument's data logging function also permits downloading of test sequences from an XL spreadsheet and uploading of test results to the spreadsheet. The DO7010 ohmmeter forms part of a comprehensive range of precision measurement instruments available from the Seaward Group.
The content & opinions in this article are the author's and do not necessarily represent the views of AltEnergyMag
---
Comments (0)
This post does not have any comments. Be the first to leave a comment below.
---
Post A Comment
You must be logged in before you can post a comment. Login now.
Featured Product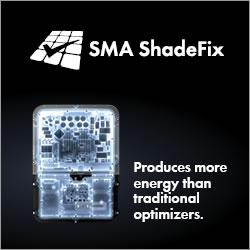 A recent university study showed SMA ShadeFix optimization produces more energy than traditional optimizers. It also utilizes far fewer components, reducing the need for costly service visits. Systems with ShadeFix optimization and SunSpec certified shutdown devices are the ideal solution for residential and commercial PV systems. Visit SMA's website to learn more and download the whitepaper.